Daca aveti pe computerul personal fisiere private pe care considerati ca trebuie sa le protejati de curiozitatea celorlalti utilizatori ai computerului, una dintre solutii ar fi sa strangeti respectivele fisiere intr-un singur folder si apoi sa blocati accesul la acesta cu ajutorul unei parole. Majoritatea metodelor care permit blocarea accesului la un folder Windows cu ajutorul unei parole implica folosirea unui program third-party, dar daca nu doriti sa folositi un astfel de program, puteti bloca accesul la respectivul folder prin intermediul unui simplu script, pe care il puteti crea chiar dvs.
Cum putem proteja un folder Windows cu parola fara a folosi aplicatii third-party?
in primul rand, creati un folder nou (de exemplu STH), care va servi ca folder gazda pentru folderul pe care il veti proteja cu parola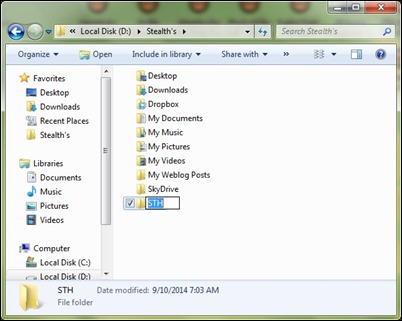 apoi, deschideti un fisier text (Text Document) si dati copy/paste codului de mai jos in acesta
cls 
@ECHO OFF 
title Folder Personal 
if EXIST "Locker" goto UNLOCK 
if NOT EXIST Personal goto MDLOCKER 
:CONFIRM 
echo Are you sure you want to lock the folder(Y/N) 
set/p "cho=>" 
if %cho%==Y goto LOCK 
if %cho%==y goto LOCK 
if %cho%==n goto END 
if %cho%==N goto END 
echo Invalid choice. 
goto CONFIRM 
:LOCK 
ren Personal "Locker" 
attrib +h +s "Locker" 
echo Folder locked 
goto End 
:UNLOCK 
echo Enter password to unlock folder 
set/p "pass=>" 
if NOT %pass%== PASSWORD goto FAIL 
attrib -h -s "Locker" 
ren "Locker" Personal 
echo Folder Unlocked successfully 
goto End 
:FAIL 
echo Invalid password 
goto end 
:MDLOCKER 
md Personal 
echo Personal created successfully 
goto End 
:End
dupa ce copiati codul de mai sus in fisierul text deschis, schimbati PASSWORD cu parola pe care doriti sa o folositi pentru a bloca accesul la folderul personal; apoi salvati fisierul text sub numele locker.bat (extensia .bat este esentiala pentru ca scriptul sa functioneze!) in folderul gazda creat anterior (in acest caz in STH)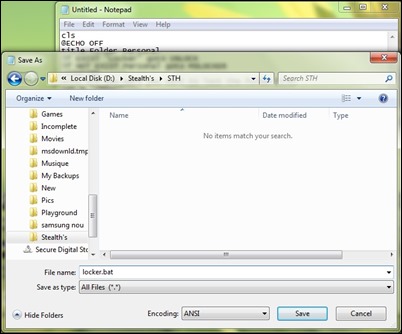 dati dublu-click pe scriptul .bat pentru a crea folderul care va fi protejat de parola (folderul respectiv va avea numele Personal; daca doriti sa il numiti altfel, schimbati numele acestuia in script)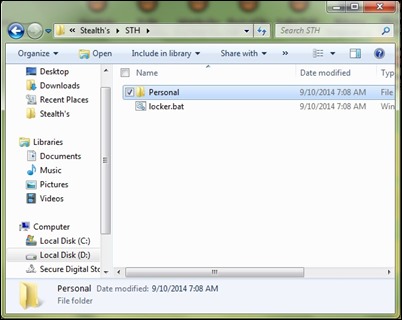 dupa crearea folderului Personal, deschideti respectivul folder si mutati in acesta toate fisierele pe care doriti sa le protejati
apoi inchideti folderul si dati din nou dublu-click pe fisierul locker.bat pentru a bloca accesul la acesta: va fi afisat un mesajul Are you sure you want to lock the folder<Y/N>; tastati Y apoi dati Enter pentru a bloca accesul la folderul Personal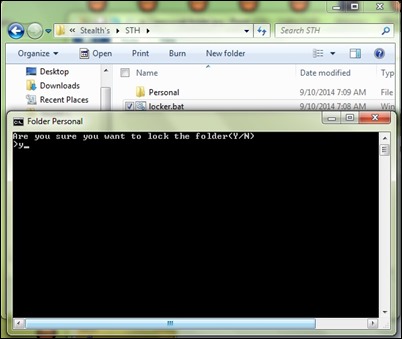 veti observa ca folderul respectiv va disparea
rulati scriptul .bat din nou si introduceti parola setata pentru accesarea folderului, apoi dati Enter
daca veti introduce parola corecta, folderul Personal va fi afisat din nou; daca introduceti parola gresita, scriptul pur si simplu se va inchide (in cazul in care uitati parola folosita, dati click-dreapta pe fisierul locker.bat si selectati Edit; scriptul va fi deschis ca fisier text si veti putea vizualiza parola setata pentru blocarea folderului)
O alta modalitate de a accesa folderul Personal fara a introduce parola de acces este aceea de a face vizibile fisierele de sistem protejate accesand Folder Options (in Windows Explorer dati click pe Organize > Folder and search options). In tab-ul View, debifati optiunea Hide protected operating system files (Recommended) si dati click pe OK (confirmati ca doriti sa afisati fisierele de sistem protejate). Folderul protejat va fi afisat sub numele Locker, insa accesul la acesta va fi nerestrictionat.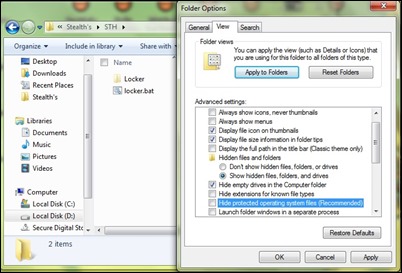 STEALTH SETTINGS – How to password protect a Windows folder without using third-party apps
Cum putem proteja un folder Windows cu parola fara a folosi aplicatii third-party