Toate computerele care vin cu Windows 8 preinstalat au si o partitie Recovery de aproximativ 15 GB care contine fiserele de sistem necesare pentru resetarea sau restaurarea sistemului de operare. Cum mai toate computerele din ziua de azi vin la pachet cu hard-diskuri de aproximativ 500 GB spatiu de stocare, cei 15 GB ai partitiei de Recovery pot fi considerati nesemnificativi, insa daca vorbim de computere care in loc de hdd-uri au SSD-uri de 64, respectiv 128 GB, utilizatorii vor dori cu siguranta sa mareasca spatiul disponibil pentru stocare stergand partitia Recovery.
Cum nu se recomanda stergerea directa a partitiei de Recovery, utilizatorii care doresc sa mareasca spatiu de stocare pe HDD sau SSD ar trebui mai intai sa creeze un backup al partitiei respective pe un USB Stick, pe care mai apoi il pot folosi ori de cate ori este necesara revenirea la setarile din fabrica a sistemului de operare.
Cum puteam crea un backup al partitiei Recovery din Windows 8 pe un USB Stick?
conectati la computer un USB Stick de cel putin 16 GB spatiu (in cazul in care partitia de Recovery este mai mare de 16 GB, este necesara folosirea unul USB stick de 32 GB). Retineti ca USB Stick-ul va fi formatat, deci inainte de a-l folosi pentru a crea backup-ul pentru partitia Recovery salvati toate datele importante de pe acesta (in cazul in care acesta contine date importante)
in Start Screen tastati recovery drive, apoi dati click pe Settings in partea dreapta a ecranului si apasati tasta Enter pentru a porni setup-ul pentru Recovery Drive.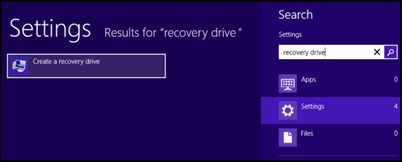 in Recovery Drive wizard, bifati optiunea Copy the recovery partition from the PC to the recovery drive si dati click pe Next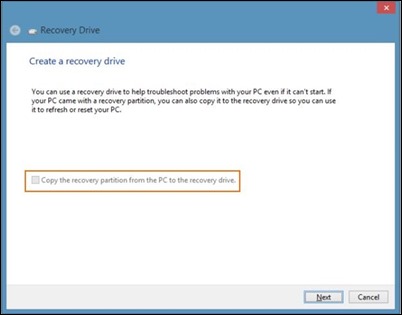 selectati USB Stick-ul pe care doriti sa faceti backup-ul, apoi dati din nou click pe Next
in fereastra care afiseaza mesajul de avertizare Everything on the drive will be deleted dati click pe Create (in functie de marimea partitiei Recovery, procesul de creare al backup-ului poate dura de la cateva minute pana la cateva ore).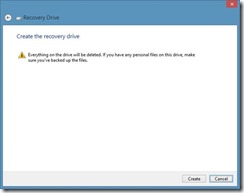 Cum putem sterge partitia Recovery din Windows 8?
dupa ce backup-ul va fi creat, va fi afisat un mesaj care va anunta ca puteti de asemenea sa stergeti partitia de Recovery pentru a elibera spatiu pe disk. Dati click pe Delete the recovery partition.
va fi afisat alt mesaj de avertizare care va v-a anunta ca daca veti sterge partitia de Recovery, va trebui sa folositi USB Stick-ul cu backup-ul acesteia ori de cate ori vreti dori sa resetati sau restaurati sistemul de operare. Dati click pe butonul Delete.
dupa ce partitia de Recovery va fi stearsa, Windows-ul va afisa spatiul pe care l-ati recuperat dupa stergerea acesteia.
Mult succes!
Nota:  Aceasta metoda de creare a unui backup pentru partitia Recovery si de a sterge respectiva partitie nu functioneaza decat pentru sistemele de operare Windows 8!
STEALTH SETTINGS – How to proper delete the Recovety Partition in Windows 8
Cum si in ce conditii putem sterge partitia de Recovery din Windows 8