Unul dintre feature-urile noi din Windows 8.1 este posibilitatea de dezinstalare a mai multor aplicatii moderne in acelasi timp. Pentru aplicatiile desktop (sau clasice) insa acest feature nu este accesibil: chiar daca optiunea Uninstall este afisata si la selectarea mai multor aplicatii desktop, daca dam click pe aceasta va fi deschisa fereastra Program and features, de unde utilizatorii vaor trebui sa dezinstaleze manual (si pe rand) aplicatiile de care nu mai au nevoie.
IObit Uninstaller este o aplicatie gratuita si portabila (nu necesita instalare) care le permite utilizatorilor Windows sa dezinstaleze mai multe aplicatii desktop in acelasi timp. In acest fel utilizatorii vor putea economisi timp atunci cand vor dori sa curete sistemul de aplicatiile pe care nu le mai folosesc si sa mai elibereze ceva spatiu pe hard-disk.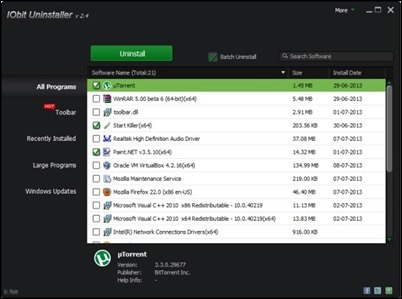 In plus, IObit Uninstaler identifica si le permite utilizatorilor sa dezinstaleze si toolbar-urile instalate si afisate in browsere, de cele mai multe ori fara acordul acestora.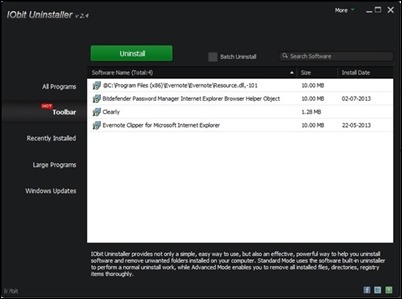 Aplicatia poate fi folosita si ca uninstaller individual, insa selectand optiunea Batch uninstall utilizatorii vor putea selecta toate aplicatiile pe care doresc sa le dezinstaleze din sistem, acestea fiind dezinstalate toate in acelasi timp, fara a trebui sa se mai intervina in proces. Dupa ce dezinstalarea aplicatiilor este completa, utilizatorilor li se ofera optiunea sa scaneze registrii de sistem pentru a identifica si curata orice urme lasate de acestea (optiune disponibila doar in modul Advanced uninstall).
De asemenea, IObit Uninstaller mai dispune de un feature interesant, si anume Force Uninstall, cu ajutorul caruia utilizatorii pot dezinstala programe ce nu pot fi dezinstalate din Programs and features (acest feature poate fi accesat dand click pe butonul More aflat in coltul din dreapta-sus al aplicatiei). Pentru a forta dezinstalarea unui program, utilizatorii vor trebui sa navigheze catre folderul de instalare al acestuia si sa selecteze fisierul de instalare (in cazul in care nu cunosc locatia fisierului pot sa-l caute introducand numele exact al acestuia si dand click pe butonul Search).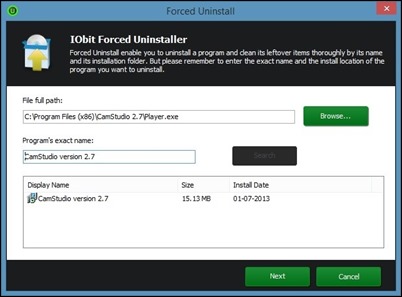 Note: Desi IObit Uninstaller poate dezinstala aproape orice aplicatie instalata in sistemele Windows, sunt unele programe care necesita interventie manuala pentru a putea fi dezinstalate (ex. Paint.net). Aplicatia este compatibila cu Windows XP, Windows Vista, Windows 7, Windows 8 si Windows 8.1.
STEALTH SETTINGS – Simultaneously uninstall multiple applications in Windows with IObit Uninstaller
Dezinstaleaza mai multe aplicatii simultan in Windows cu IObit Uninstaller