In anumite situatii este posibil sa fim nevoiti sa restartam sistemul de operare Windows din diverse motive (instalarea unor update-uri critice de sistem, instalarea sau dezinstalarea anumitor aplicatii sau efectuarea unor setari de sistem), si astfel sa trebuiasca sa inchidem aplicatiile si/sau fisierele cu care lucram in momentele respective.
Desi in astfel de cazuri majoritatea utilizatorilor inchid manual aplicatiile care ruleaza, pentru a le redeschide tot manual dupa restart, mult mai simpla ar fi folosirea unei utilitati care sa automatizeze inchiderea si redeschiderea aplicatiilor care ruleaza in Windows, si anume SmartClose.
SmartClose este o utilitate gratuita cu ajutorul careia utilizatorii Windows pot crea snapshot-uri ale sistemului de operare, pentru ca ulterior sa poata restaura cu ajutorul snapshot-urilor respectivele toate aplicatiile care rulau in sistem in momentele in care acestea (snapshot-urile) au fost create.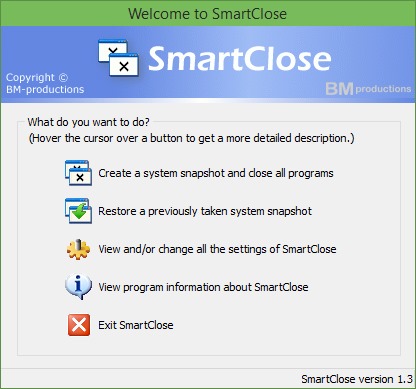 Cum functioneaza SmartClose?
Inainte de efectuarea unui restart de sistem (sau orice alta actiune care necesita inchidrea tuturor aplicatiilor care ruleaza in sistem la momentul respectiv), rulati SmartClose si selectati prima optiune afisata de aceasta, si anume Create a system snapshot and close all programs; aplicatia va afisa o lista cu programele care ruleaza si progresul inchiderii acestora si al crearii snapshot-ului.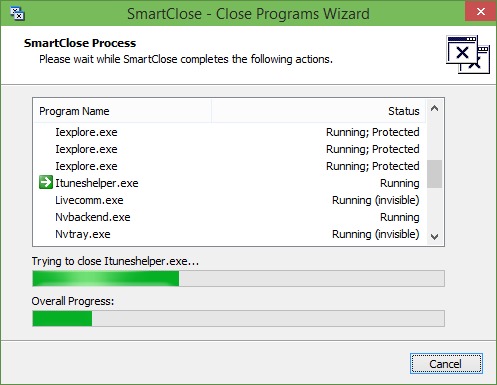 Inainte de a crea un snapshot de sistem, puteti configura setarile pentru aplicatie dand click pe optiunea View and/or change all the settings of SmartClose (de exemplu, puteti alege sa afisati sau sa ascundeti lista de programe inchise si/sau restaurate de aplicatie, sa terminati fortat programele care nu pot fi inchise corect sau sa alegeti un folder custom pentru salvarea snapshot-urilor de sistem create).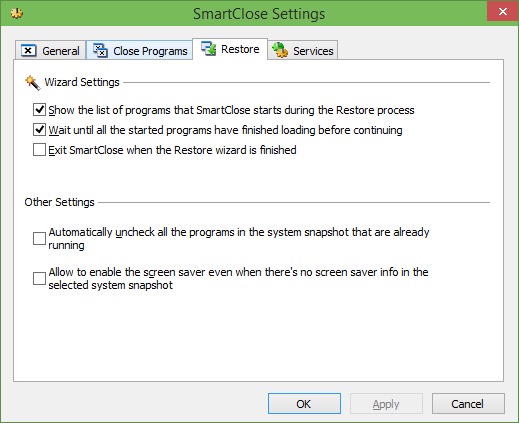 De asemenea, utilizatorii pot selecta sa creeze un snapshot al sistemului si fara a opri programele care ruleaza (acesta poate fi folosit ulterior pentru a deschide respectivele programe ori de cate ori este nevoie), sau pot inchide toate aplicatiile active fara a crea snapshot-uri de sistem (inainte de a inchide aplicatiile care ruleaza, utilizatorii pot selecta si optiunea de a opri serviciile Windows).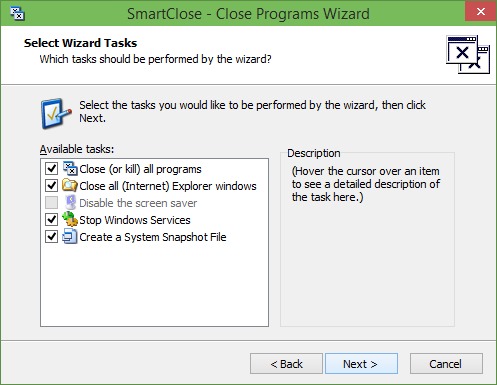 Nota: Aplicatie compatibila cu Windows 7, windows 8/8.1 si Windows 10.
STEALTH SETTINGS – How to quickly close and restore all running programs in Windows