Team-ul de la Yahoo! Messenger , s-a plictisit de munca la Yahoo! Messenger pentru Windows Vista (Y!M Vista) si s-au apucat de Y!M pentru WordPress ? :)) O fi mai usor de instalat pe wp decat pe windows :-?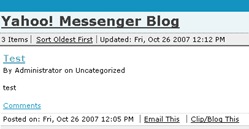 Sorry! The page you were looking for cannot be found.

Use the search box at the top of the page or go to the Yahoo! Messenger Blog homepage.
Yahoo Messenger for WordPress : Coming soon ! LOL joke.
Mda. Se fac "teste" si la case mai mari .
Y!M for WordPress !