Daca la computerul dvs cu Windows 8.1 au acces si copii, cel mai probabil veti dori sa restrictionati accesul acestora la site-urile care au continut pentru adulti. Cea mai simpla metoda prin care puteti face acest lucru este sa activati feature-ul Family Safety inclus in mod default in sistem. In primul rand, trebuie sa creati un user separat pentru accesul copiilor la computerul cu Windows 8.1, apoi sa activati Family Safety de pe un user (cont) cu privilegii de administrator.
Cum blocam accesul la site-urile pentru adulti in Windows 8.1?
logati-va in Windows cu un user Administrator, apoi deschideti Control Panel (tastati control.exe in Run)
in Control Panel dati click pe Network and Internet, apoi pe Internet Options

in fereastra deschida, dati click pe tab-ul Content, apoi pe butonul Family Safety (afisat in coltul din dreapta-sus)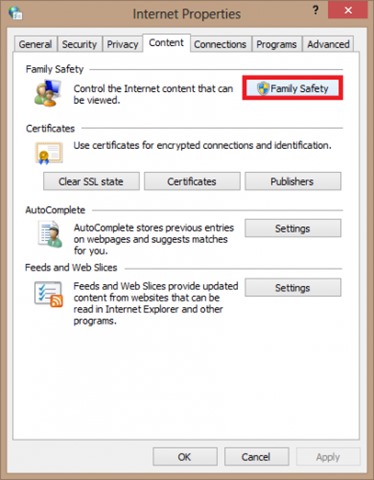 selectati utilizatorul pentru care doriti sa activati restrictionarea accesului la site-urile cu continut pentru adulti
sub Parental Controls selectati optiunea On, enforce current settings, apoi dati click pe Web filtering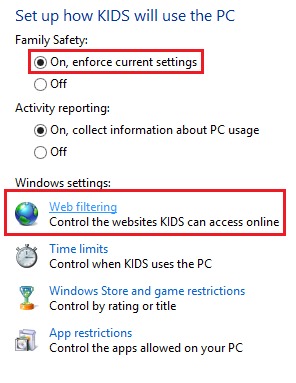 selectati User can only use the websites I allow (unde User este numele userului folosit de copii)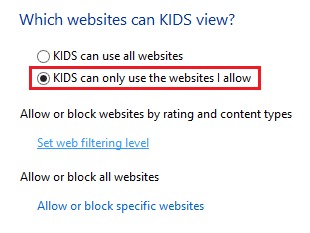 apoi, din lista afisata, selectati optiunea care vi se pare cea mai potrivita pentru copii dvs (de exemplu, Designed for childern; majoritatea optiunilor listate blocheaza accesul la site-urile cu continut pentru adulti)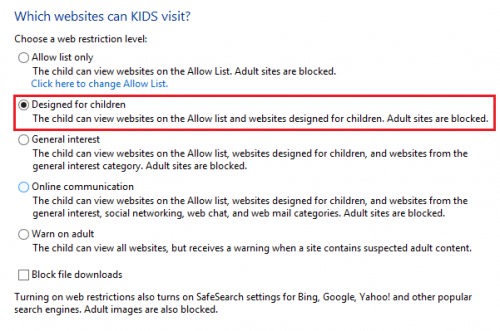 Urmand instructiunile descrise mai sus, veti putea bloca accesul copiilor la site-urile cu continut oentru adulti si, de asemenea, puteti seta si alte reguli pentru folosirea internetului de catre acestia (de exemplu puteti seta o lista fixa de site-uri care pot fi accesate de copii si puteti bloca si descarcarea de fisiere pentru o securitate mai buna).
STEALTH SETTINGS – How to block access to Adult Content websites in Windows 8.1