In cazul in care la computerul dvs cu Windows mai au acces si alti utilizatori (colegi, membri ai familiei sau prieteni), cel mai probabil veti dori sa blocati accesul acestora la diverse aplicatii care contin informatii personale sau date importante pe care doriti sa le pastrati private. In mod default, singura optiune existenta in Windows pentru a restrictiona accesul altor utilizatori la anumite aplicatii este Parental Control, insa setarea acestuia este una tocmai simpla. In cazul in care doriti o solutie mai rapida care sa va ajute sa blocati accesul altor utilizatori la anumite aplicatii din Windows, va recomandam sa incercati aplicatia (third-party) Simple Run Blocker.
Simple Run Blocker este o utilitate gratuita cu ajutorul careia utilizatorii Windows pot dezactiva (si reactiva) rapid accesul la diverse aplicatii instalate in sistem. Aplicatia are o interfata extrem de simpla si foarte usor de inteles si folosit. Pentru a restrictiona accesul la o anumita aplicatie din Windows, pur si simplu dati click pe butonul verde sub forma de + afisat in partea stanga-sus, apoi selectati aplicatia respectiva.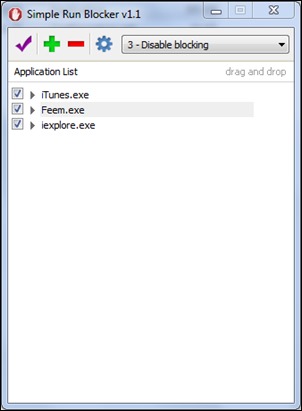 In felul descris mai sus, puteti adauga in Simple Run Blocker un numar nelimitat de aplicatii (pentru a restrictiona accesul la acestea). Apoi, din meniul drop-down afisat in partea dreapta-sus a tool-ului, selectati actiunea pe care doriti sa o efectueze aplicatia: Block all except the list bellow (blocheaza toate aplicatiile instalate in sistem cu exceptia aplicatiilor adaugate in lista), Block only the list bellow (blocheaza doar aplicatiile adaugate in lista), Disable blocking (deazctiveaza blocarea aplicatiilor).
De asemenea, Simple Run Blocker permite ascunderea (si reafisarea) drive-urilor din sistem, restartarea Windows Explorer si afisarea fisierelor ascunse (aceste optiuni sunt accesibile in meniul de setari).
Simple Run Blocker este o aplicatie micuta (sub 1MB), care consuma foarte putine resurse de sistem si care nu necesita instalare (este portabila si poate fi folosita inclusiv de pe un USB Stick).
Nota: aplicatia este compatibila cu Windows XP, Windows Vista, Windows 7 si Windows 8/8.1 (32-biti si 64-biti).
STEALTH SETTINGS – How to quickly restrict acces to apps in Windows
Cum putem bloca rapid anumite aplicatii din Windows