W3 Total Cache este unul dintre cele mai bune plugin-uri de optimizare (SEO si resurse server / page speed)  pentru WordPress.
La cateva site-uri pe care folosesc acest plugin de WordPress am intalnit erori de genul:
[Sat Oct 01 05:41:28 2011] [error] [client IP] PHP Fatal error:  Call to undefined function w3_url_format() in /home/username/public_html/wp-content/plugins/w3-total-cache/lib/W3/Plugin/PgCacheAdmin.php on line 213
Specific ca eroarea apare inclusiv in ultima versiune 0.9.2.4 a W3 Total Cache. 
Pentru un proprietar de blog care nu are cPanel pentru administrarea serviciului de web hosting sau nu are acces la Apache Error Logs, aceasta eroare este invizibila. Nu stiu exact daca afecteaza buna functionare a plugin-ului W3 Total Cache, insa este bine sa fie eliminata.
Rezolvare eroare w3_url_format() in PgCacheAdmin.php on line 213  (W3 Total Cache / WordPress Plugin)
1. Deschidem fisierul PgCacheAdmin.php si sub linia 10:
require_once W3TC_INC_DIR . '/functions/rule.php';
adaugam linia:
require_once W3TC_INC_DIR . '/functions/url.php';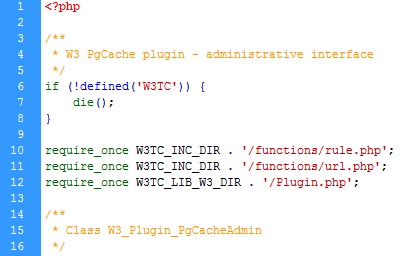 2. Salvam fisierul PgCacheAdmin.php.
Acum totul ar trebui sa fie OK.
Download W3 Total Cache WordPress Plugin – link .
W3 Total Cache
Improve site performance and user experience via caching: browser, page, object, database, minify and content delivery network support. W3 Total Cache improves the user experience of your site by improving your server performance, caching every aspect of your site, reducing the download times and providing transparent content delivery network (CDN) integration.
Fix PHP Fatal error: Call to undefined function w3_url_format() in PgCacheAdmin.php on line 213 (W3 Total Cache)