WordPress este o platfoma de blogging si CMS care nu mai are nevoie de prezentare. De fiecare data cand s-a lansat o noua versiune de WordPress nu m-am grabit sa fac update-ul. Am asteptat sa vad daca sunt probleme cu noua versiune, am urmarit compatibilitatile plugin-urilor si functiilor folosite, iar cand m-am decis sa trec la noua versiune am preferat sa nu folosesc metoda clasica de update. Pentru mine "metoda clasica" inseamna update-ul din Dashboard.
Multi care au incercat sa faca update-ul de WordPress din Dashboard (wp-admin/update-core.php) si au esuat, nu au mai putut sa scape de mesajul "An automated WordPress update has failed to complete – please attempt the update again now." sau nu au mai reusit sa scoata blogul din "Maintenance mode".

Daca sunteti unul din "fericitii" care intampina aceasta problema, rezolvarea este simpla. Trebuie sa aveti acces FTP sau SSH la fisierele blogului. Mergeti in directorul radacina (root) in care sunt fisierele blogului si stergeti fisierul .maintenance.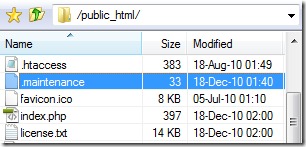 Descarcati arhiva cu versiunea de WordPress la care doriti sa faceti update, dezarhivati si urcati fisierele pe FTP (upload) peste cele existente. Folositi FileZilla, FlashFXP sau orice client de FTP care va este la idemana. Cei care au WHM/cPanel pot folosi optiunea File Manager pentru Upload.
Stealth Settings – WordPress Update Error.
Fix / Remove WordPress Update Error (An automated WordPress update has failed to complete – please attempt the update again now.)