Microsoft Safety Scanner este una dintre cele mai eficiente metode de a detecta virusii, aplicatiile spyware sau alte tipuri de software malware existente pe un Windows PC.
Acest anti-virus scanner verifica in primul rand daca fisierele de sistem au o semnatura care sa prezinte incredere. Orice fisier de sistem, in mod normal ar trebui sa poarte semnatura Microsoft, de exemplu. Daca un fisier .exe, .dll sau de oricare alt tip, a suferit modificari acesta va fi detectat automat de Microsoft Safety Scanner.
Cum poate fi downloadat si rulat Microsoft Safety Scanner?
Microsoft Safety Scanner, este un security tool care poate fi rulat in paralel cu antivirusul deja instalat pe sistemul Windows (daca acesta exista). Microsoft Safety Scanner, nu este un antivirus care sa va ofere o protectie in timp real si sa va protejeze de aplicatiile malware. Acesta se descarca, si se executa procesul de scanare la cererea utilizatorului.
Este de mentionat si faptul ca dupa 10 zile de la data descarcarii Microsoft Safety Scanner, acesta trebuie sters si descrcat din nou de pe pagina oficiala a Microsoft. Nu este un security tool care sa primeasca update-uri ca un software antivirus obisnuit.
"The Microsoft Safety Scanner is a free downloadable security tool that provides on-demand scanning and helps remove viruses, spyware, and other malicious software. It works with your existing antivirus software.
Note: The Microsoft Safety Scanner expires 10 days after being downloaded. To rerun a scan with the latest anti-malware definitions, download and run the Microsoft Safety Scanner again.
The Microsoft Safety Scanner is not a replacement for using an antivirus software program that provides ongoing protection."
Microsoft Safety Scanner este gratuit si este compatibil cu sistemele de operare Windows 7, Windows 8 si Windows 10. Aplicatia este gratuita si este disponibila pentru download pe pagina oficiala gazduita de Microsoft.
Download Microsoft Safety Scanner Security Tool – via Microsoft
Dupa ce descarcam fisierul msert.exe (Microsoft Safety Scanner), asa cum am mai spus, timp de 10 zile il putem rula oricand. Dupa ce acest timp va trebui sa intram iar pe pagina oficiala si sa-l descrcam iar.
Facem dublu-click pentru a lansa aplicatia Microsoft Safety Scanner, bifam ca acceptam "Termenii si Conditiile", apoi ne sunt date trei optiuni de scanare.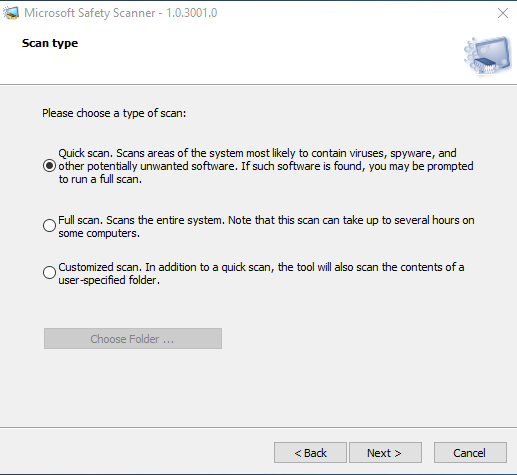 Quick Scan – Este optiunea cea mai rapida, care scaneaza numai fisierele si folderele sistemului de operare. Zone preferate de spyware, virusi si malware. Recomandarea este ca daca se va descoperi un fisier virusat in aceste zone de sistem, sa treceti la scanarea completa. Full scan.
Full scan – Scaneaza toate fisierele prezente pe hard. Aceasta scanare poate dura de la cateva minute, la cateva ore, in functie de volumul si numarul fisierelor aflate pe hard.
Customized scan – Aceasta optiune, da posibilitatea utilizatorului de alege o locatie specifica. Putem alege sa scanam folderul Windows, folderul Download sau folderul in care descarcam fisiere de pe torrente. Cele mai predispuse sa primeasca fisiere virusate.
Dupa ce decideti care dintre cele trei optiuni o veti utiliza, apasati "next" pentru a porni scanarea.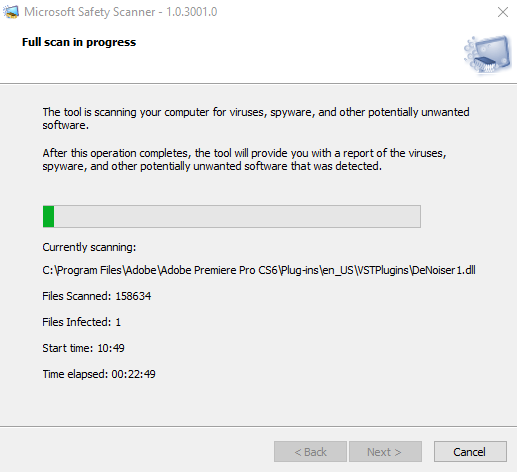 La finalizarea procesului de scanare, va fi afisat un raport cu situatia virusilor, aplicatiilor spyware sau malware gasite pe sistem.
Microsoft Safety Scanner Security Tool este gratuit si este compatibil pe Windows 7; Windows Server 2003; Windows Vista; Windows XP, Windows 8, Windows 8.1 si Windows 10.