Microsoft a lansat Windows 8.1 Preview in urma cu cateva zile, acesta putand fi instalat fie ca update gratuit din Windows Store, fie prin intermediul imaginii ISO disponibila la download pe site-ul oficial al companiei.
Printre cele mai importante (si mult asteptate) feature-uri incluse in update-ul Windows 8.1 se numara butonul de Start (reintrodus la cererea utilizatorilor; acesta insa va afisa Start Screen-ul, de asemenea imbunatatit, iar nu meniul de Start asa cum sperau multi dintre dvs), mai multe optiuni de customizare, afisarea mai multor aplicatii (pana la 4 aplicatii, in functie de rezolutia display-ului) pe acelasi ecran (split-view), look nou pentru Windows Store, Search imbunatatit si, nu in ultimul rand, optiunea de a boota direct in Desktop.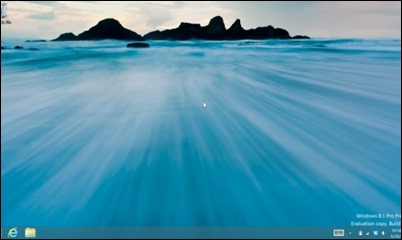 In Windows 8, atunci cand pornim sistemul, este afisat intai Start Screen-ul, abia apoi putand accesa Desktopul dand click pe tile-ul acestuia, motiv pentru care foarte multi dintre noi au apelat la aplicatii third-party pentru a boota direct in Desktop. In Windows 8.1 Preview utilizatorii pot activa optiunea de a bootare direct in Desktop din setarile sistemului, fara a mai fi necesara folosirea unor terte aplicatii pentru a realiza acest lucru.
Cum putem boota Windows 8.1 Preview direct in Desktop?
pentru a activa bootarea Windows 8.1 direct in Desktop, dati click dreapta pe Taskbar si selectati Properties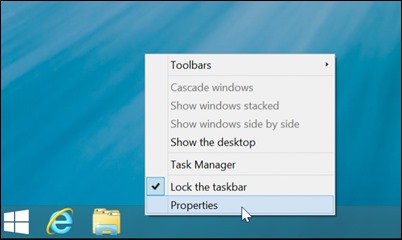 in tab-ul Navigations, sub Start Screen, bifati optiunea Go to the desktop instead of Start when I sign in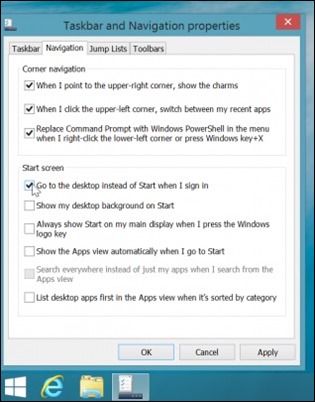 dati click pe Apply si OK, apoi dati logout sau restart
Cu prima ocazie cu care va veti loga in Windows 8.1 veti fi directionati direct catre Desktop, fara a mai fi afisat intai Start Screen-ul. Succes!
STEALTH SETTINGS – Enable boot to Desktop option in Windows 8.1 Preview
Activeaza optiunea de bootare direct in Desktop in Windows 8.1 Preview