Foarte multi utilizatori Windows au probleme cu citirea diverselor texte din cauza dimensiunii mici a fonturilor default ale sistemului (mai ales in cazul monitoarelor de dimensiuni si rezolutii foarte mari). Din fericire pentru acestia, Windows 8.1 le ofera posibilitatea de a mari atat dimensiunea fonturilor cat si a altor elemente de sistem, astfel incat citirea textelor sa devina nu doar posibila, ci si confortabila pentru ochi.
Inainte de mari dimensiunea fonturilor (si implicit a textelor) intr-un sistem de operare Windows 8.1, trebuie sa retineti ca problema nu se rezolva prin schimbarea rezolutiei ecranului. Daca micsorati rezolutia monitorului, textele vor fi afisate mai mari, insa acest lucru va afecta modul in care vor fi afisate si celelalte elemente din sistem (de asemenea, micsorarea rezolutiei ecranului va avea consecinte si asupra felului in care vor fi redate fisierele video si asupra calitatii acestora). De aceea, pentru a mari dimensiunea fonturilor/textelor si a altor elemente in Windows 8.1 fara a compromite rezolutia ecranului trebuie sa urmati intocmai instructiunile de mai jos.
in Start Screen dati click pe tile-ul Desktop
apoi, in Desktop, dati click dreapta pe o portiune libera din acesta si selectati Screen Resolution din meniul afisat
in fereastra deschisa, dati click pe link-ul Make text and other items larger or smaller (acesta este afisat sub setarile de rezolutie)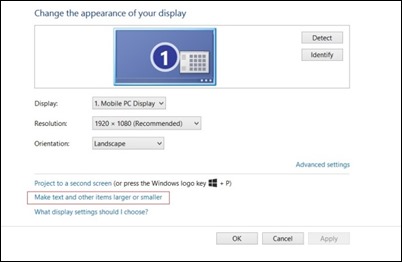 apoi, pentru a mari atat textul cat si alte elemente ale sistemului, folositi slider-ul afisat sub Change the size of all items (trageti de slider spre dreapta; tot in dreapta veti observa si un preview al modificarilor facute)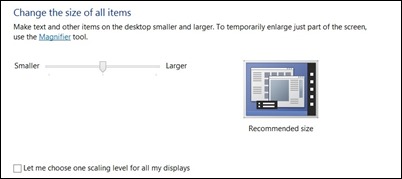 daca doriti sa mariti doar dimensiunea textelor, selectati pe rand din meniul drop-down afisat sub Change only the text size elementele pentru care doriti sa mariti dimensiunea textelor, apoi selectati dimensiunea fontului pentru textele respective (marimea default a fontului este 11); aceasta optiune permite pastrarea dimensiunii default pentru elementele de sistem, in schimb va mari textele afisate in acestea pentru o citire mai usoara

dupa ce faceti modificarile necesare pentru marirea textelor si a altor elemente din sistem, dati click pe Apply pentru ca acestea sa aiba efect
Modificarea marimii textelor si a altor elemente de sistem din Screen Resolution nu are efect insa si pentru Start Screen. In cazul in care doriti sa mariti si dimensiunea textelor si a tile-urilor aplicatiilor din Start Screen va trebui sa urmati pasii de mai jos:
in Start Screen deschideti meniul Charms si dati click pe Settings, apoi pe Change PC settings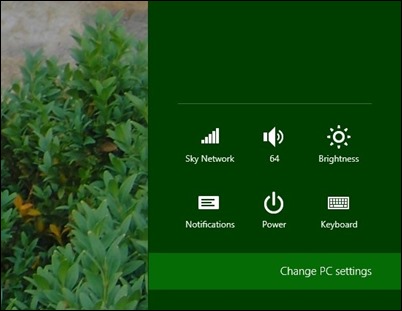 in fereastra afisata, dati click pe PC and devices, apoi pe Display
in setarile pentru Display, in partea dreapta, sub optiunea More options este afisat un meniu drop-down
selectati Larger pentru a mari textele si elementele din Start Screen
Dupa ce veti face aceasta modificare, veti observa ca elementele din Start Screen (si textele din acestea) vor fi afisate la dimensiunea mai mare (ceea ce va face citirea mai usoara). Succes!
STEALTH SETTINGS – How to increase size for text and app icons/tiles in Windows 8.1
Cum putem mari dimensiunea textelor si a altor elemente de sistem in Windows 8.1