Sunt anumite situatii cand utilizatorii sistemelor de operare Windows doresc sa creeze partitii noi, fie pe hard-diskul pe care este instalat sistemul (de exemplu o partitie pentru backup-uri), fie pe unul nou pe care vor sa il adauge la sistem, pentru a mari spatiul de stocare. Utilizatorii Windows 8 care se afla intr-o astfel de situatie pot urma instructiunile de mai jos pentru a crea o noua partitie in sistem.
deschideti meniul Power/Win+X (click-dreapta in coltul extrem din stanga-jos al ecranului) si selectati Disk Management (de asemenea, puteti tasta diskmgmt.msc in Run, apoi sa dati Enter)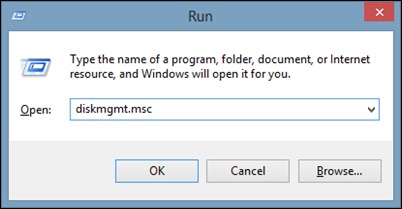 in cazul in care doriti sa creati o partitie noua pe un hard-disk deja existent, dati click-dreapta pe partitia (volumul) pe care doriti sa o impartiti in doua si selectati Shrink Volume din meniul afisat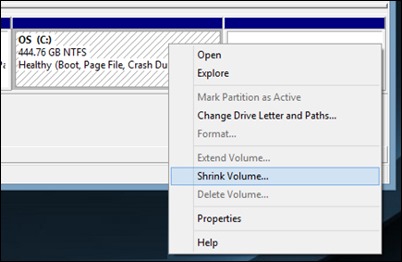 dupa ce partitia va fi verificata pentru se a determina spatiul disponibil pe aceasta, in dreptul Enter the amount of space to shrink in MB introduceti cat spatiu doriti sa aiba noua partitie si dati click pe butonul Shrink (daca doriti o partitie de 1 GB, sa zicem, va trebui sa introduceti marimea acesteia in MB, adica 1024; pentru o partitie de 15 GB, introduceti 15360, adica 15*1024, si tot asa)
dupa ce procesul va fi complet, in Disk Management veti observa un nou spatiu nealocat (extras in pasul anterior dintr-una dintre partitiile deja existente);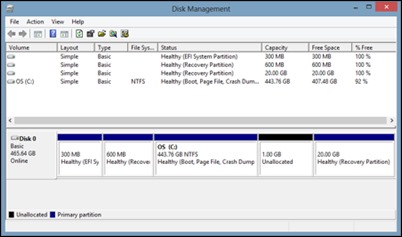 dati click-dreapta pe acesta si selectati New Simple Volume din meniu (daca folositi un hard-disk nou pentru a crea partitia, sariti direct la pasul acesta, si impartiti noul spatiu nealocat in cate partitii doriti)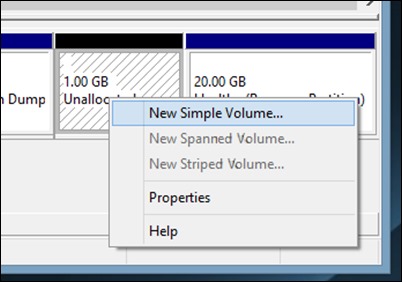 apoi, in New Simple Volume Wizard, dati click pe Next, apoi din nou pe Next (fara a modifica dimensiunea noului volum, decat daca doriti sa creati mai mult de o partitie din spatiul alocat, caz in care va trebui sa specificati, in MB, spatiul pentru fiecare dintre partitii; de asemenea, va trebui sa rulati New Simple Volume Wizard pentru fiecare partitie in parte)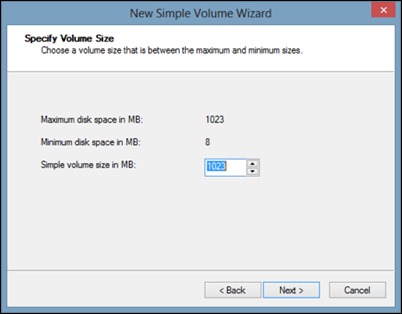 in urmatoarea fereastra din wizard, selectati optiunea Assign the following drive letter, apoi selectati una dintre literele disponibile pentru noua partitie (in cazul in care doriti sa instalati un nou sistem de operare pe partitia creata, puteti selecta si optiunea Do not assign a drive letter or drive path, avand in vedere ca orice setare selectam pentru noua partitie va fi rescrisa la instalarea sistemului)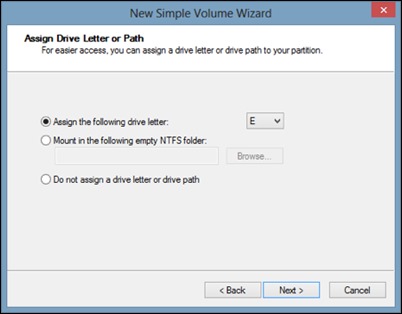 in fereastra Format Partition, selectati Format this volume with the following settings, apoi selectati NTFS din meniul drop-down din dreptul File system, in dreptul Allocation unit size lasati Default, iar in dreptul Volume label introduceti numele dorit pentru noua partitie (de exemplu Backup), apoi dati click pe Next si pe Finish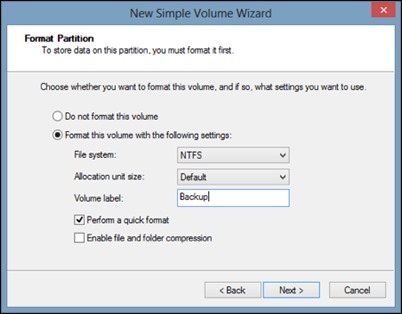 Veti observa ca in Disk Management a aparut noua partitie creata, afisata cu numele si litera aleasa de dvs.
De asemenea, partitia va fi disponibila si in Windows Explorer.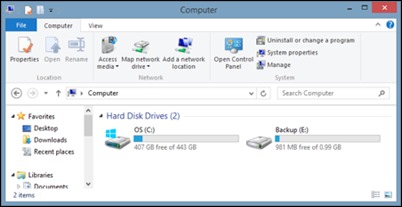 Succes!
Nota: tutorial valabil si pentru Windows XP, Windows Vista si Windows 7.
STEALTH SETTINGS – How to create a new partition in Windows 8
Cum putem crea o partitie noua in Windows 8