Windows 8 vine la pachet si cu un feature auto-quit applications care identifica aplicatiile deschise in momentul inchiderii sau al restartarii sistemului si le inchide fortat. Desi acest feature poate fi de ajutor pentru cei care isi doresc un shutdown rapid, de multe ori se intampla sa uitam sa salvam modificarile facute aplicatiilor deschise inainte sa inchidem sistemul, cazuri in care featureul auto-quit nu mai este aliatul nostru.
Utilizatorii care isi doresc sa mai aiba o sansa atunci cand degetele le-o iau inainte si dau shutdown fara sa apuce sa salveze ceea ce au lucrat pana atunci, pot modifica politica de shutdown a Windows 8 dezactivand feature-ul auto-quit applications.
Dezactivare auto-quit applications feature in Windows 8
deschideti Group Policy Editor (in Start Screen tastati gpedit.msc, selectati Apps in Side bar, apoi dati click pe gpedit in fereastra principala; sau deschideti Run folosind combinatia de taste Windows + R, tastati gpedit.msc si dati OK)
navigati catre Computer Configuration > Administrative Templates > System > Shutdown Options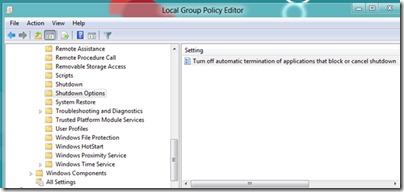 in panoul din dreapta, dati dublu click pe intrarea Turn off automatic termination of applications that block ar cancel shutdown
in fereastra deschisa, selectati Enabled, apoi dati click pe OK si inchideti Group Policy Editor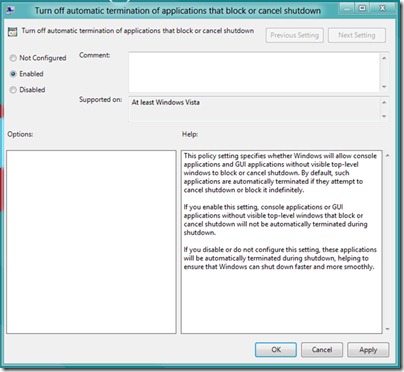 Daca veti dori vreodata sa reactivati feature-ul de auto-terminare a aplicatiilor, urmati pasii descrisi mai sus si selectati Not Configured sau Disabled.
Nota: Pentru a putea face modificari in Group Policy Editor trebuie sa folositi un user al sistemului care are drepturi administrative
STEALTH SETTINGS – How to disable auto-termination of applications that blokc Shutdown in Windows 8
Cum putem dezactiva auto-terminarea aplicatiilor care blocheaza Shutdown-ul in Windows 8