Utilizatorii care au testat Windows 8.1 Preview cel mai probabil sunt deja familiarizati cu noile feature-uri disponibile in acest sistem de operare, unul dintre cele mai importante fiind si integrarea SkyDrive in sistem. Pe langa acesta, noul File Explorer, Document Save si Camera Roll sunt alte feature-uri care ofera userilor o modalitate rapida de a salva fisierele direct in cloud.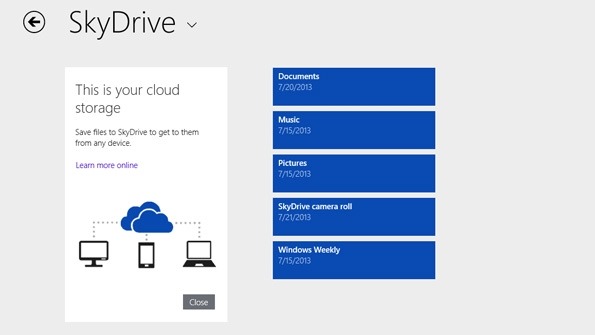 Desigur, sunt destui utilizatori care folosesc SkyDrive-ul si care sunt multumiti de accesul rapid la acesta direct din Windows, insa feature-ul are un mare minus, si anume lipsa optiunilor de configurare. In plus, pentru cei care folosesc alte servicii de stocare online (Google Drive sau Dropbox) sau nu folosesc deloc un astfel de serviciu, integrarea SkyDrive nu le ofera niciun fel de beneficii, ci mai degraba incurca, iar optiunea de dezinstalare lipseste de asemenea cu desavarsire.
Daca si dvs. va numarati printre cei care si-ar dori sa poata dezinstala/dezactiva serviciul SkyDrive din Windows 8.1, urmatoarele instructiuni va vor fi cu siguranta de ajutor.
Cum dezactivam integrarea SkyDrive in Windows 8.1?
deschideti Group Policy Editor (tastati Windows+R pentru a deschide Run, apoi tastati gpedit.msc si dati Enter)
navigati catre Local Computer Policy > Computer Configuration > Administrative Templates > Windows Components > SkyDrive
in panoul din dreapta dati dublu-click pe intrarea Prevent the usage of SkyDrive for file storage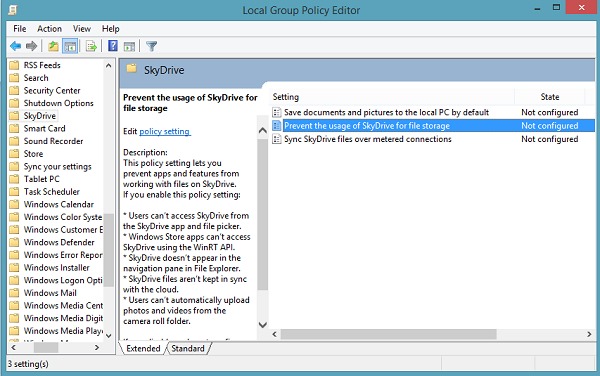 in dialogul de setari deschis, selectati Enabled, apoi dati click pe Apply si OK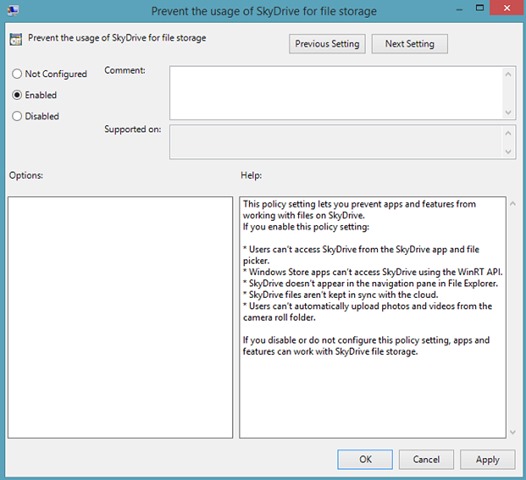 Si gata. In felul acesta veti dezactiva serviciul SkyDrive (si integrarea acestuia) in Windows 8.1. De asemenea, si alte feature-uri vor fi la randul lor dezactivate, si anume utilizatorii nu vor mai putea uploada fotografii si videoclipuri din folderul Camera Roll, SkyDrive nu va mai putea fi accesat nici din aplicatia moderna SkyDrive, iar aplicatiile din Windows Store nu vor mai putea accesa SkyDrive prin intermediul WinRT API.
Nota: In cazul in care veti dori sa reactivati integrarea SkyDrive in Windows 8.1, urmati pasii de mai sus iar in setarile intrarii Prevent the usage of SkyDrive for file storage selectati Not configured sau Disabled.
STEALTH SETTINGS – How to disable SkyDrive integration in Windows 8.1