Atunci cand navgam pe internet, browser-ul folosit pastreaza urme ale activitatii noastre online inregistrate in istoria de navigare a browserului respectiv. Istoria de navigare a unui browser include pe langa istoria propriu-zisa a paginilor vizitate si date cum ar fi cookie-urile, cache-ul, parolele folosite pentru accesarea conturilor online, fisiere temporare de pe internet, lista de download-uri facute prin intermediul browser-ului sau datele introduse de utilizator in anumite formulare online.
Utilizatorii browser-ului Internet Explorer care impart acelasi computer si cu alte persoane si sunt ingrijorati ca istoria de navigare inregistrata de browser le-ar putea periclita intimitatea, pot alege sa foloseasca optiunea Delete browsing history din setarile IE (disponibila in Internet Options > General sub Browsing History) pentru a sterge toate datele stocate in urma navigarii online.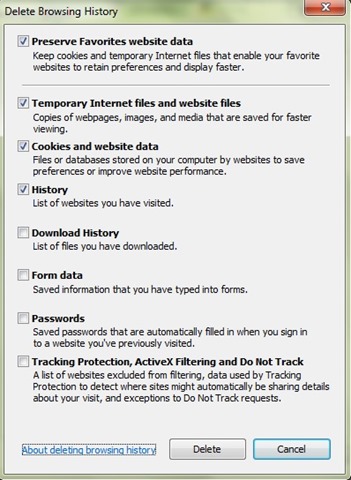 Dar daca doriti sa supervizati navigarea online a celorlalti utilizatori puteti preveni stergea istoriei de navigare (sau a anumitor date inregistrate in aceasta) prin intermediul Group Policy Editor.
Cum prevenim stergerea istioriei de navigare in browser-ul Internet Explorer?
deschideti Group Policy Editor (tastati gpedit.msc in Run si dati Enter)
apoi navigati (in partea stanga) catre Computer Configuration > Administrative Templates > Windows Components > Internet Explorer > Delete Browsing History
in partea dreapta, identificati intrarea Prevent access to Delete Browsing History si dati dublu-click pe aceasta
apoi, in fereastra de setari afisata, selectati Enabled si dati click pe Apply si OK
Dupa ce veti face aceasta setare, utilizatorii Internet Explorer nu vor mai putea accesa dialogul Delete Browsing History pentru a sterge istoria de navigare online. In cazul in care doriti sa preveniti stergerea doar a anumitor date inregistrate in istoria de navigare a browser-ului IE (cum ar fi cookie-urile, parolele salvate, lista de website-uri vizitate etc), puteti face acest lucru cu ajutorul celorlalate setari disponibile sub directorul Internet Explorer > Delete Browsing History in Group Policy Editor (de exemplu Prevent deleting cookies, Prevent deleting download history, Prevent deleting websites that the user has visited, Prevent deleting browsing history on exit, Prevent deleting passwords etc).
STEALTH SETTINGS – How to prevent deleting of browsing history in Internet Explorer