In mod normal nu prea am avea de ce sa ascundem fisiere pe un Windows PC, decat daca la calculator mai are acces si altcineva in afara de noi, pe acelasi user.
Este bine de stiut ca pe Windows 10 se pot ascunde cu usurinta poze, filme, videoclipuri, documnte si alte fisiere, insa, ca ele sa nu fie gasite conteaza foarte mult si… cum le ascundem.
O metoda foarte simpla de ascundere a fisierelor si folderelor pe Windows 10, este optiunea "Hidden". Inceficienta, daca cine doreste sa vada fisierele ascunse de pe Windows 10, va citi acest tutorial.
Sa vedem mai intai cum se pot ascunde fisiere si foldere pe Windows 10.
1. Mergem la folder-ul pe care dorim sa-l ascundem, facem click-dreapta pe el, click "Properties", apoi in caseta care se deschide bifam optiunea "Hidden".
2. Avem posibilitatea sa alegem atributul "hide" numai pentru folder sau atat pentru folder cat si pentru subfoldere si fisierele pe care le contine. Recomandat este sa bifam optiunea "Apply changes to this folder, subfolders and files".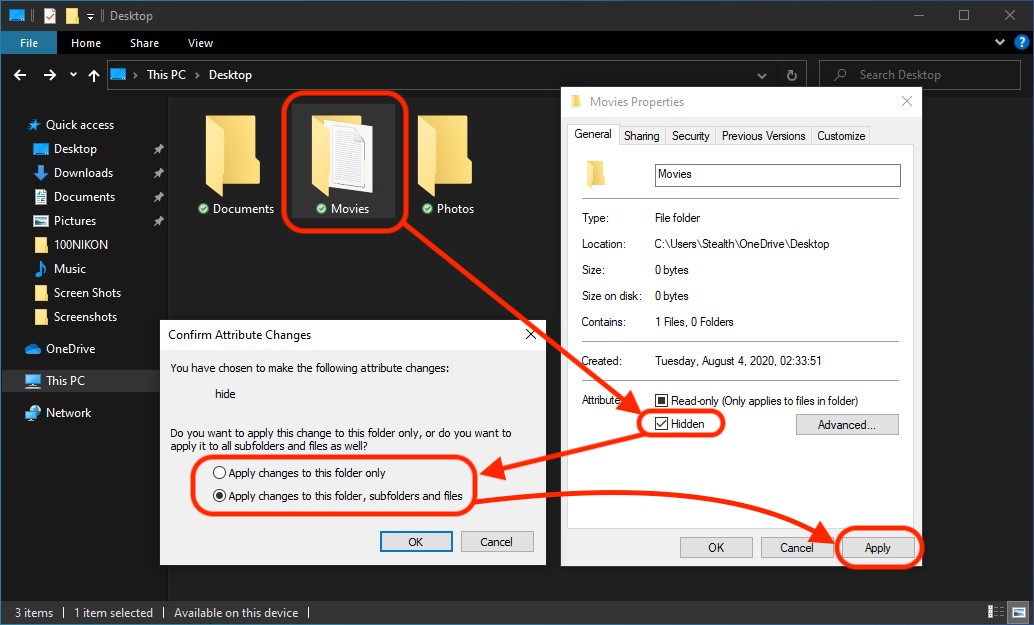 3. Click "Apply" si folderul nu va mai fi vizibil in File Explorer.
Aceasta este cea mai simpla metoda de ascundere a folderelor si fisierelor pe Windows 10, dar si cea mai ineficienta.
Cum putem sa vedem folderele si fisierele ascunse (hidden files and folders) pe Windows 10.
1. Deschidem File Explorer din taskbar sau pur si simplu deschidem un folder oarecare.
2. Mergem in bara de sus la "View", apoi bifam optiunea "Hidden items".
Dupa acest pas, folderele si fisierele ascunse vor deveni vizibile. Acestea vor avea pictograme putin mai inchise la culoare decat cele normale. Asa cum se poate observa la folderul "Movies" in imaginea de mai sus.
Tot ce trebuie sa faceti in continuare este sa cautati fisierele ascunse folosind bara de cautare a File Explorer. Cautati dupa extensie pentru a localiza pozele, filmele, videoclipurile sau documentele ascunse pe Windows 10.