Acum mai bine de un an, mai exact pe 21 martie 2011, Mozilla lansa in sfarsit, dupa foarte multe variante beta, Firefox 4, versiunea finala. Si, desi urma cu 4 zile Mozilla a facut disponibila pentru public versiunea 12 a popularului browser, inca mai sunt foarte multi utilizatori care nu s-au indurat sa renunte la Firefox 3.6, majoritatea folosind modificarile facute la interfata si instabilitatea sugerata de upgrade-urile de versiune, facute aproape lunar in ultimul an, ca principale motivatii pentru acest lucru. In plus, acestia considera ca versiunea 3.6 corespunde cel mai mult cerintelor personale, iar versiunile mai noi au devenit din ce in ce mai incarcate si, in ciuda eforturilor Mozilla, se misca mult mai greu decat aceasta, mai ales pe computerele cu configuratii mai slabe.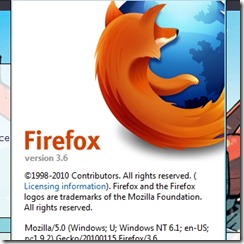 Ei bine, avem o veste proasta pentru acesti utilizatori, deoarece Mozilla a hotarat sa intrerupa suportul pentru Firefox 3.6 (lansat in ianuarie 2010) incepand cu 24 aprilie anul acesta, imediat dupa lansarea ultimei versiuni stabile a browserului, si anume versiunea 12.
We strongly advise our users to upgrade from Firefox 3.6, as they will no longer receive critical security updates as of April 24th". So, any Firefox 3.6 lover still using it as a primary web browser is advised to upgrade the old version.

Utilizatorii Firefox 3.6 deja au inceput sa primeasca mesaje "urgente" care le cere sa actualizaze browserul la ultima versiune lansata, si care ii anunta ca nu vor mai primi update-uri de securitate, ceea ce implica faptul ca in curand aceasta versiune va fi destul de periculos de folosit.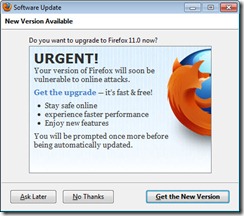 Un alt anunt Mozilla facut recent este acela ca versiunea finala Firefox 13, care va fi lansata in iunie acest an, va avea ca cerinte minime de sistem folosirea Windows XP SP2 (cerinte care inainte permiteau folosirea sistemului de operare Windows 2000), motivul fiind incercarea de a imbunatati semnificativ performanta browserului prin folosirea acestuia pe un sistem modern.
STEALTH SETTINGS – Mozilla has ended support for Firefox 3.6! Upgrade to latest version
Mozilla a incheiat suportul pentru Firefox 3.6! Upgradati la versiunea 12