Desi Windows 8 a fost lansat acum mai bine de un an, iar din octombrie Microsoft a facut public si update-ul Windows 8.1, multi utilizatori nu se simt inca pregatiti sa renunte de tot la sistemul de operare Windows 7, si prefera sa il tina pe acesta instalat in dual-boot cu Windows 8/8.1.
Daca si dvs va numarati printre cei care au instalat in dual-boot Windows 8.1 cu Windows 7 si aveti setat ca sistem principal Windows 8.1, cel mai probabil ati observat ca atunci cand doriti sa restartati PC-ul in Windows 7, dureaza mai mult pana cand sistemul de operare booteaza (cand selectam Windows 7 din meniul de boot, computer-ul se restarteaza inca o data inainte de a porni sistemul selectat). In timp ce acest lucru nu reprezinta neaparat o problema, utilizatorii care obisnuiesc sa restarteze frecvent in Windows 7 pot considera acest comportament destul de iritant.
Cum putem restarta rapid din Windows 8.1 in Windows 7?
System Functions Reboot To este o utilitate gratuita care ajuta utilizatorii sa restarteze rapid dintr-un sistem de operare in altul (atunci cand acestea sunt instalate in dual-boot), fara a fi necesara accesarea meniului de boot.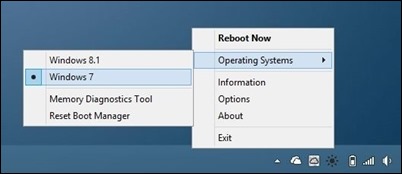 Dupa ce este instalata, aplicatia ruleaza in system tray, si ori de cate ori utilizatorul vrea sa restarteze PC-ul in celalat sistem de operare instalat in dual-boot nu trebuie decat sa dea click pe iconita Reboot To, sa selecteze sistemul pe care doreste sa il booteze din Operating systems, apoi sa dea click pe optiunea Reebot Now. PC-ul va boota in sistemul selectat mult mai rapid decat daca s-ar fi folosit meniul de boot.
De asemenea, aplicatia Reboot To permite utilizatorilor sa acceseze tool-ul Windows Memory Diagnostic si sa reseteze Boot managerul pentru PC.
Nota: Aplicatie compatibila cu Windows Vista, Windows 7, Windows 8/8.1 (reboot si install). De asemenea, aplicatia permite restartarea in sistemul de operare Ubuntu (wubi).
STEALTH SETTINGS – Quickly reboot from Windows 8.1 to Windows 7 (dual-boot)
Restarteaza rapid din Windows 8.1 in Windows 7 (dual-boot)