Promit sa fiu angajat curand de Yahoo! Messenger Team . Am exerimentat cam toate plugin-urile si hack-urile posibile pe YM 8 si acum mi-am indreptat atentia spre versiune beta (preview) Yahoo! Messenger Vista. Sunt la un pas de a renunta la versiunea asta, pana mai apar noi update-uri majore, pentru o gasesc putin mai saraca decat GTalk .

Y!M Vista , arata bine dar designul placut ascunde multe bube si neajunsuri . Am impresia ca versiunea asta a fost a fost facuta pe fuga si scoasa la insistentele utilizatorilor care au asteptat aproape un an lansarea Y!M Vista. Pentru cine se gandeste sa mai instaleze noua versiune de Y!M pe Windows Vista , nu trebuie sa mai caute optiunile de voce si video . Y!M Vista, nu are asa ceva.
Lista de optiuni este foarte saraca , dupa cum vedeti in imaginea de mai jos :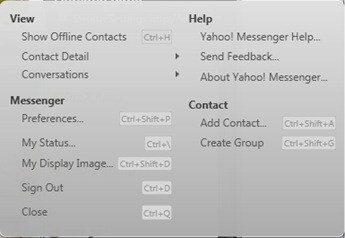 Nimic special, Nimic interesant si la "Preferences…". unde in afara de "Connection" , "Ignore List", "General" (cu alte 4 optiuni minimal.) si "sound" , nu exista altceva. Deh…arata bine si e nou . E altceva … si nici nu-ti vine sa injuri de toti sfintii cand constati ca asta nu salveaza arhivele conversatiilor, nu arata detaliile de transfer ale unui fisier catre alt ID (adica, cat la suta a mai ramas de transferat din fisier. e stresant , ca nu stii daca se mai transfera ceva sau nu) . Nu are mesaje de notificare pentru mail-urile primite pe contul de Yahoo! , nu are Y!Music , nu are Webcam , nu are Yahoo! Voice, nu are etc, etc, etc si nu are Stealth Settings ! Daaarrr … are ceva ce compenseaza toate neajunsurile….
Yahoo.Messenger.YmApp has stopped working
A problem caused the program to stop working correctly.
Windows will close the program and notify you if a solution is available.
… adica Windows Vista Home Premium , mai are cateva greturi cu el din cand in cand … cam cand ti-e lumea mai draga apare acest mesaj si Yahoo! Messenger se inchide automat .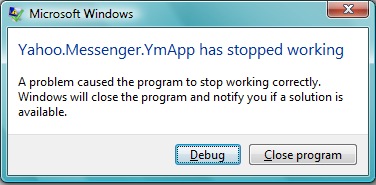 Pentru mai multe detalii despre Yahoo! Messenger Vista si pentru a fi la curent cu ultimile noutati, vizitati blogul oficial al Yahoo! Messenger.