Printre feature-urile noi ale Windows 8 se numara si Hybrid Boot, acesta marind viteza de shutdown a sistemului, insa fara a inchide complet sesiunile acestuia. Mai exact, Hybrid Boot este asemanator cu feature-ul de hibernare, diferenta dintre acestea doua fiind aceea ca in timpul hibernarii atat sesiunea pentru kernel cat si sesiunea pentru user sunt "conservate" in fisierul hiberfil.sys, iar cand folosim Hybrid Boot numai sesiunea pentru kernel este bagata in hibernare, sesiunea userului fiind inchisa.
Desi atunci cand folosim Hybrid Boot viteza de bootare a sistemului este imbunatatita simtitor, uneori este recomandat sa restartam si sesiunea de kernel, adica sa executam un shutdown classic, complet. Desi unii utilizatori Windows 8 prefera sa dezactiveze feature-ul Hybrid Boot pentru a putea inchide complet sistemul la shutdown, exista o solutie care permite si inchiderea sesiunii de kernel fara a dezactiva Hybrid Boot.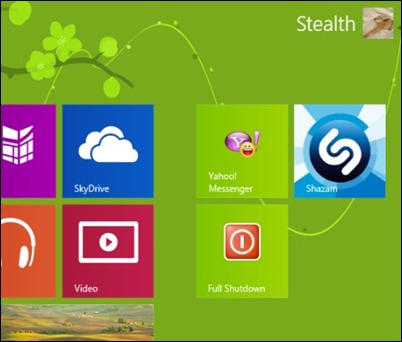 Cum sa executam un Shutdown complet al Windows 8 fara a dezactiva Hybrid Boot?
dati click-dreapta pe Desktop si selectati New > Shortcut din Context Menu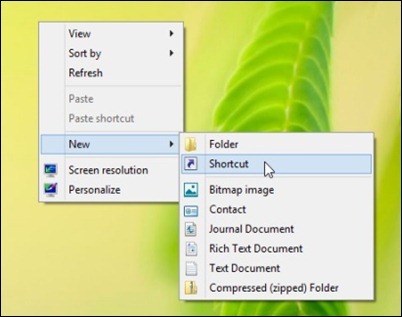 in campul de sub Type the locatio of the item tastati shutdown /s /t 0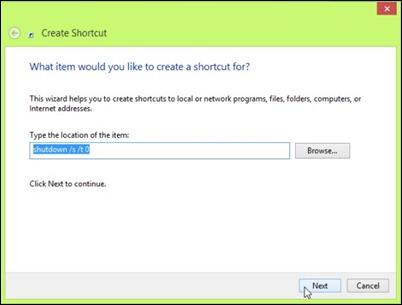 apoi alegeti un nume pentru shortcut (de exemplu Full Shutdown) si dati click pe Finish.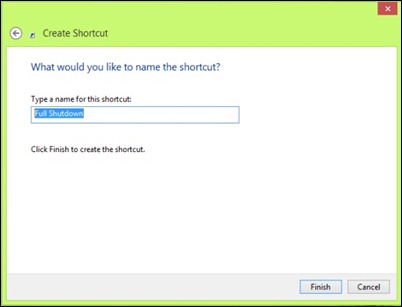 In cazul in care doriti sa alegeti o iconita pentru shortcut-ul creat, dati click-dreapta pe acesta si selectati Properties. In tab-ul Shortcut dati click pe butonul Change Icon, apoi selectati iconita dorita fie dintre iconitele custom stocate in computer (daca aveti asa ceva), fie dintre iconitele default ale Windowsului.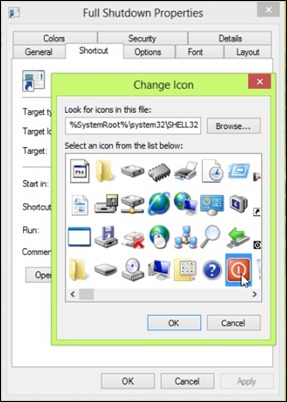 Apoi fixati (pin) shortcut-ul in Start Screen pentru un acces mai rapid la acesta.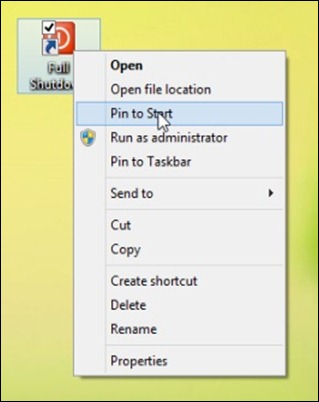 Si gata. Ori de cate ori doriti sa faceti un shutdown complet al Windows 8, deschideti Start Screen si dati click pe tile-ul shortcut-ului creat.
STEALTH SETTINGS – How to completely shutdown Windows 8 without disabling Hybrid Boot
Cum putem inchide complet Windows 8 fara a dezactiva Hybrid Boot