Dintre imbunatatirile cu care a venit la pachet Windows 8, putem spune ca in fruntea listei se situeaza viteza acestui sistem de operare, mult mai mare decat a versiunilor anterioare, indiferent daca ne referim la viteza de bootare sau viteza de transfer/copiere a fisierelor. In plus, consuma si mai putine resurse de sistem.
Legat de viteza noului sistem de operare, unul dintre feature-urile noi ale Windows 8 este Fast Startup, feature care, conform Microsoft, le vine in ajutor utilizatorilor care prefera sa inchida de tot sistemul in loc sa il bage in hibernare. Cand Fast Startup este activat, Windows 8 booteaza in mai putin de 6 secunde pe un SSD (Solid State Drive).
Cum functioneaza Fast Startup in Windows 8?
Pentru a porni computerul mai rapid dupa un Shutdown, atunci cand Fast Startup este activat, Windowsul salveaza informatiile de sistem intr-un fisier exact inainte de inchiderea acestuia. Dupa ce pornim din nou computerul, Windows 8 foloseste respectivul fisier pentru a rezuma procesele de sistem, fara a le restarta.
Fast Startup este activat in mod implicit in Windows 8, insa cel mai probabil sunt si utilizatori care doresc sa verifice acest lucru sau care doresc sa dezactiveze acest feature.
Cum activam/dezactivam Fast Startup in Windows 8?
in ecranul de Start (Start Screen) folositi combinatia de taste Windows + W pentru a activa functia de Search (de asemenea, puteti folosi Search-ul din meniul Charms)
in Search tastati power options, apoi dati Enter (sau selectati Power Options in rezultatele afisate in partea stanga)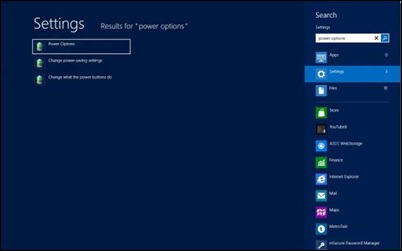 in fereastra deschisa dati click pe Choose what the power buttons do (panoul din stanga)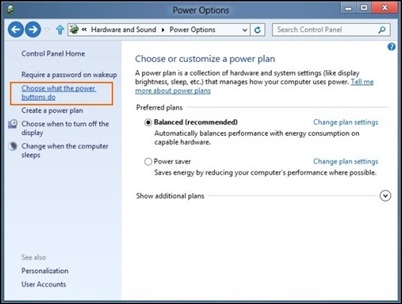 dati click pe optiunea Change settings that are currently unavailable
sub Shutdown settings, bifati (pentru a activa) sau debifati (pentru a dezactiva) casuta din dreptul Turn on fast startup (recommended)
Nota: Fast Startup nu functioneaza si in cazul restartarii sistemului. Pentru ca Fast Startup sa aiba efect, trebuie sa inchideti computerul (Shutdown), apoi sa il porniti din nou.
STEALTH SETTINGS – How to enable/disable Fast Startup in Windows 8
Cum putem activa/dezactiva Fast Startup in Windows 8