Facebook a devenit in ultimii ani cea mai folosita metoda de comunicare intre internauti, reteaua de socializare oferindu-le utilizatorilor posibilitatea de a intra in contact cu prietenii, familia, colegii etc. atat prin intermediul computerelor, cat si prin cel al dispozitivelor mobile. De asemenea, de ceva vreme incoace, Facebook le-a pus utilizatorilor la dispozitie si aplicatia mobila Messenger, astfel incat acestia sa poata conversa cu prietenii gratuit pe internet de oriunde. Folosind Facebook Messenger, utilizatorii pot trimite celor cu care au conversatii nu doar mesaje text, ci si mesaje voce, insa acest lucru nu este (cel putin nu inca) disponibil si pentru versiunea web a Facebook. Pentru a acoperi acest minus exista insa extensia Talk and Comment pentru browser-ul Google Chrome, care le permite utilizatorilor sa posteze comentarii audio sau mesaje voce direct pe versiunea web a Facebook.

Extensia este destul de simplu de folosit (configurarea se face automat dupa instalare). Dupa instalare, aceasta va cere permisiunea pentru a folosi microfonul computer-ului (daca nu aveti unul incorporat, va trebui sa conectati unul la PC), apoi va afisa un buton microfon in partea dreapta a campului unde tastati comentariile sau mesajele in Facebook.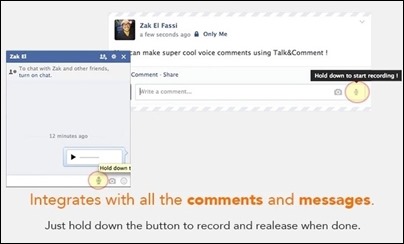 Pentru a posta un comentariu audio sau un mesaj voce, tineti apasat butonul microfon, iar cand terminati mesajul, pur si simplu luati mouse-ul de pe acesta si mesajul va fi uploadat (in Facebook va fi afisat sub forma unui url, care atunci cand este accesat ruleaza mesajul voce).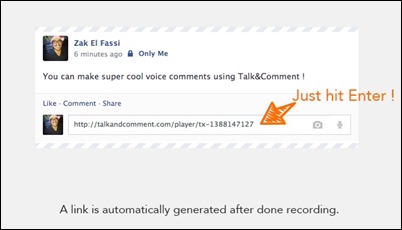 Partea buna este ca si utilizatorii care nu folosesc extensia Chrome Talk and Comment pot primi si rula mesajele voce sau comentariile audio primite. In plus, nu exista un timp limita pentru mesajele respective (atata timp cat nu va amorteste degetul pe mouse, puteti spune o intreaga poveste). Enjoy!
Download Talk and Comment pentru Facebook (Google Chrome Extension).
Nota: Extensia functioneaza doar pe versiuni stabile ale browserului Chrome.
STEALTH SETTINGS – How to post audio comments and voice messages on Facebook (Google Chrome Extension)
Cum putem posta comentarii audio si mesaje voce in Facebook (Extensie Google Chrome)