De obicei, atunci cand ramanem fara spatiu pe partitia de sistem este necesara (chiar obligatorie) o verificare a programelor instalate pentru a  identifica si a dezinstala aplicatiile nefolositoare sau aplicatiile de care ne putem lipsi cel putin o perioada limitata de timp (in cazul acestora din urma este recomandat sa pastram executabilele, pentru ca nu se stie cand sau de ce vom avea nevoie de ele). Dar ce ne facem atunci cand nu ne induram sa renuntam la nici una dintre aplicatiile instalate in Program Files? Solutia vine tot sub forma unei aplicatii, si anume JunctionMaster.
Dupa cum probabil deja stiti, partitiile NTFS dispun de un feature numit NTFS Junction point care permite crearea de link-uri intre foldere aflate pe partitii diferite. Acest feature este activ implicit in Windows 7, stand la baza Windows Libraries. Luam exemplu folderul My Music, cu locatia in C:Usersuser_nameMy Music. Din acest folder pot fi create linkuri catre diverse alte foldere (click pe link-ul de sub Music library, in coltul din stanga-sus), situate pe aceeasi partitie sau pe partitii diferite, continutul acestora putand apoi fi accesat direct din My Music. Valabil si pentru Documents, Pictures si Videos.
JunctionMaster este o utilitate gratuita (considerata mai degraba o extensie shell a Windowsului) care permite utilizatorilor sai sa creeze linkuri intre foldere situate pe partitii diferite. Diferenta intre JunctionMaster si NTFS Junction points este aceea ca Junction Master permite mutarea completa a unui folder de pe o partitie pe alta, in acelasi timp creand o copie virtuala a acestuia pe partitia de pe care este mutat si leaga folderul virtual de folderul real astfel incat acesta poate fi accesat in continuare din vechea locatie, fara a afecta fisierele sau programele instalate in Windows.
Cum functioneaza JunctionMaster?
downloadati si instalati aplicatia, apoi deschideti Windows Explorer si navigati catre locatia folderului pe care doriti sa il mutati
dati click-dreapta pe folderul respectiv si selectati MOVE and then LINK folder to…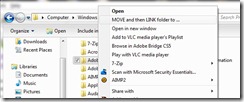 selectati noua locatie pentru folderul pe care doriti sa il mutati, apoi dati click pe butonul Move and Link sau pe OK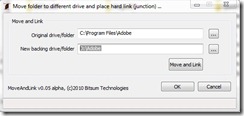 dupa ce dati click pe OK, JunctionMaster va muta tot continutul folderului original in folderul nou creat, insa acesta va fi accesibil in continuare din vechea locatie
daca doriti sa desfaceti legaturile/link-urile dintre foldere, folositi tot JunctionMaster pentru a scana sistemul, selectati linkurile respective si dati click pe Remove selected links (backing files will remain in-tact).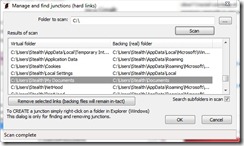 Desi poate fi folosita pentru relocarea oricairui folder de pe hdd, aplicatia JunctionMaster este in primul rand un ajutor binevenit pentru cei care doresc sa mute pe o partitie diferita de cea de sistem folderele de instalare ale anumitor aplicatii, pentru a mai elibera din spatiul necesar pentru alte instalarea altor programe sau pentru o functionare mai buna a sistemului.
Nota: Atunci cand creati linkuri intre foldere retineti ca fisierele pe care le stergeti dintr-unul dintre foldere vor fi sterse si din folderul celalalt (este foarte important sa nu confundati continutul folderelor legate prin JunctionMaster cu fisiere duplicate – avand in vedere ca acestea vor fi listate de doua ori – pentru a nu pierde date importante. In cazul aplicatiilor, acestea nu vor mai functiona corect sau nu vor mai functiona deloc).
Compatibil cu toate versiunile de Windows 7, pe 32-biti si 64-biti.
STEALTH SETTINGS – HOW TO RELOCATE A FOLDER TO ANOTHER DRIVE IN WINDOWS 7 WITHOUT CHANGING ACCESS PATH
Cum sa relocam un folder pe alta partitie in Windows 7 fara a-i schimba calea de acces