Erorile Blue Screen (Ecran Albastru) sunt erori critice, prezente pe toate sistemele de operare Microsoft (Windows 95, Windows 98, Windows ME, Windows XP, Windows Vista si Windows 7) care apar de cele mai multe ori din cauza unor incompatibilitati hardware ale sistemului. Ele pot fi provocate de o memorie RAM defecta sau incompatibila, de driverele incompatibile ale unui device auxiliar (telefon mobil, card reader, webcam, etc..) conectat la PC, erori ale unor DLL-uri corupte sau de probleme ale placii de baza (motherboard). In principal, probleme apar din cauza unor conflicte de drivere sau incompatibilitati ale memoriei. Pe ecranul albastru sunt afisate informatii despre tipul erorii, numele si codul acesteia. Aceste date sunt foarte utile pentru corectarea erorilor si rezolvarea problemei. In timpul unui BSoD pe sistem este salvat un raport al memoriei fizice, care va contine toate detaliile erorii. Acest raport este salvat in format minidump ( .dmp file).
Aproape de fiecare data cand ne confruntam cu o eroare (crash) Blue Screen (BSoD – Blue Screen of Death), timpul foarte scurt in care dispare ecranul albastru, ne impiedica sa identificam cauza problemei. O aplicatie foarte buna pentru a citi si analiza log-urile de eroare (memory crash dump files) dupa repornirea sistemului, este BlueScreenView.
Aplicatia BlueScreenView nu necesita instalare (aplicatie portabila) si scaneaza automat sistemul in cautarea fisierelor minidump, afisand numele fisierului, data la care a fost creat, ecranul blue screen si datele erorii din continutul fisierului.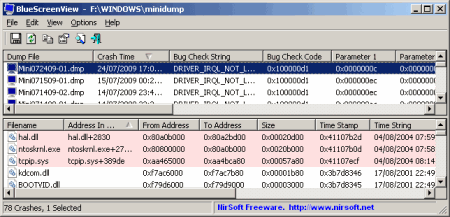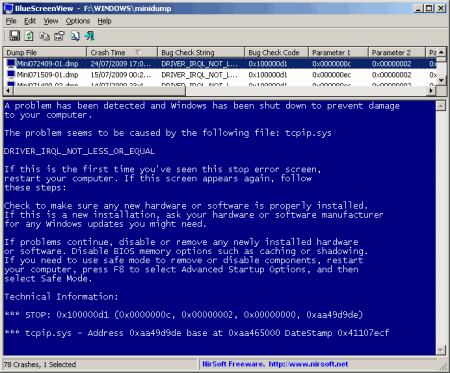 Download BlueScreenView v1.31
– Automatically scans your current minidump folder and displays the list of all crash dumps, including crash dump date/time and crash details.
– Allows you to view a blue screen which is very similar to the one that Windows displayed during the crash.
– BlueScreenView enumerates the memory addresses inside the stack of the crash, and find all drivers/modules that might be involved in the crash.
– BlueScreenView also allows you to work with another instance of Windows, simply by choosing the right minidump folder (In Advanced Options).
– BlueScreenView automatically locate the drivers appeared in the crash dump, and extract their version resource information, including product name, file version, company, and file description.
Pentru mai multe detalii si actualizari ale acestei aplicatii, mergeti pe nirsoft.net.
Aplicatia este compatibila pe toate sisteme de operare Windows XP , Windows Server 2003, Windows Server 2008, Windows Vista si Windows 7 – 32-bit & 64-bit.
Stealth Settings – View BSOD (blue screen) crash information stored in dump files.