Cand avem de cautat diverse poze, filme sau documente in Windows PC, cel mai indemana ne este bara dedicata cautarii. Search. Undeva in partea din dreapta-sus a Windows Explorer.
Cautarea in foldere sau succesiune de foldere care contin un numar mare de fisiere, poate dura destul de mult daca acestea nu au fost indexate in prealabil de sistemul de operare.
In timp ce efectuam o cautare, in bara de sus apare mesajul: "Your searches might be slow because the index is not running…". Ce inseamna acest lucru? Ca serviciul de indexare al fisierelor de pe hard nu a fost pornit, iar afisarea rezultatelor poate sa intarzie. Activarea acestei optiuni, "Search Indexing Service" ajuta la formarea unor librarii ce contin indecsii fisierelor prezente pe PC, pentru a putea fi listate utilizatorului intr-un timp scurt, cand aceste o cere prin functia "Search".
Este adevarat ca in prima faza, acest serviciu va consuma ceva resurse de sistem, in special pe hard disk-urile clasice care nu au o viteza foarte mare comparativ cu Flash / SSD, insa este o optiune recomandata.
Cum activam Search Index pe Windows? (Valabil pentru toate versiunile de Windows)
Asa cum ne spune si mesajul, facem click stanga pe bara de "tips".

Dupa ce facem click pe bara, se va deschide o caseta de dialog in care suntrem intrebati daca dorim activarea serviciului de indexare.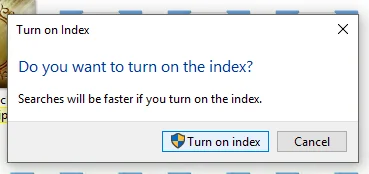 "Turn on index" pentru a porni procesul de indexare al fisierelor de pe hard disk.
Acest feature al Windows este prezent pe toat eversiunile de Windows XP pana la Windows 10.
Dupa spusele celor de la Microsoft, acest serviciu va rula numai atunci cand PC-ul este in "idle" (adica este pornit dar nu este folosit), insa am intalnit de multe ori acest serviciu ruland in momentul in care aveam nevoie de resursele de sistem ale Windows. Lucru care bineinteles mi-a ingreunat putin procesul de lucru la PC.