A ramas mai putin de o luna pana la evenimentul Windows 10: The next chapter ce va fi sustinut de Microsoft in a doua jumatate a lui ianuarie 2015 (mai exact pe data de 21 ianuarie, cand, cel mai probabil, va fi lansata si urmatoarea versiune beta a Windows 10, si anume versiunea Consumer Preview).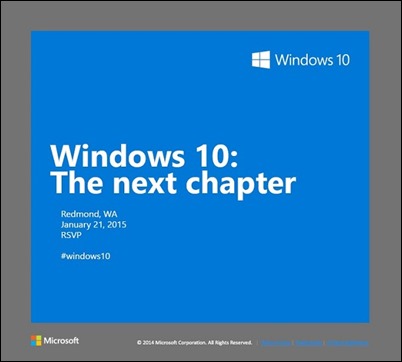 Pentru a veni in intampinarea utilizatorilor nerabdatori sa testeze noul build oficial al Windows 10, Microsoft a lansat o noua utilitate, numita Prepare this PC, cu ajutorul careia utilizatorii sistemelor Windows 7 si Windows 8.1 vor putea sa upgradeze la urmatoarea versiune preview a Windows 10 via Windows Update (cei care ruleaza versiunea Windows 10 Technical Preview build 9879 deja au acest feature activat in sistem).
Desi Microsoft nu le recomanda utilizatorilor sa instaleze o versiune preview a sistemului Windows pe un computer principal (mai ales daca acesta contine date importante, intrucat acestea pot fi afectate sau chiar distruse de eventuale erori sau pot deveni vulnerabile), in cazul in care dispuneti de un computer secundar pe care puteti testa o astfel de versiune, descarcati utilitatea Prepare this PC de pe site-ul oficial Microsoft, apoi rulati-o pentru a activa upgrade-ul la Windows 10 Preview (versiunea ce va fi lansata in ianuarie 2015) prin intermediul Windows Update.
In cazul in care preferati sa faceti o instalare curata a noii versiuni Windows 10 Preview in locul upgrade-ului via Windows Update, Microsoft va pune la dispozitia utilizatorilor si imaginea ISO de instalare a acesteia (momentan, la link-ul de download afisat mai jos este disponibila imaginea ISO a primei versiuni Windows 10 Technical Preview, insa aceasta va primi automat prin Windows Update upgrade-urile pentru noile versiuni lansate de Microsoft).
Download Prepare this PC (upgrade to Windows 10 Preview).
Download ISO installation image for Windows 10 Technical Preview.
Nota: Versiunea Windows 10 Technical Preview va expira pe data de 15 aprilie 2015, iar versiunea finala (RTM) a Windows 10 va fi lansata in toamna 2015.
STEALTH SETTINGS – Microsoft released a new tool to prepare Windows PC to upgrade to Windows 10 Preview via Windows Update
MICROSOFT A LANSAT O UTILITATE CARE PREGATESTE COMPUTERUL PENTRU UPGRADE-UL LA WINDOWS 10 PREVIEW VIA WINDOWS UPDATE