Cel mai important user al unui server MySQL este cu siguranta user-ul "root". User-ul care are toate privilegiile administrative pentru bazele de date (MySQL databases).
In cazul in care nu mai stiti ce parola este setata la user-ul root al MySQL, va trebui sa urmati cativa pasi simpli pentru a reseta aceasta parola. Noi am facut acest lucru pe un MySQL instalat pe CentOS 5.6.
Reset / Recover MySQL root Passowrd
1. Ne logam cu user-ul root la sistemul pe care este serverul de MySQL. (user-ul root al sistemului, nu al serverului MySQL). Logare direct din consola sau de la distanta prin conexiune ssh (cu putty de pe Windows).
2. Oprim procesul / serverul MySQL.
service mysqld stop

sau

/etc/init.d/mysqld stop
Rezultatul va fi :
Stopping MySQL:                     [  OK  ]
3. Pornim serverul MySQL cu optiunea "–skip-grant-tables". Pornirea MySQL server/daemon proces fara parola.
mysqld_safe –skip-grant-tables &
Rezultatul dupa linia de comanda de mai sus:
[1] 3041
[root@server ~]# Starting mysqld daemon with databases from /var/lib/mysql
4. Ne conectam la serverul mysql cu user-ul root, folosing comanda:
mysql -u root
Rezultatul comenzii:
Welcome to the MySQL monitor.  Commands end with ; or g.
Your MySQL connection id is 1
Server version: 5.0.77 Source distribution

Type 'help;' or 'h' for help. Type 'c' to clear the buffer.

mysql>
5. Selectam baza mysql si setam noua parola pentru user-ul root.
use mysql;
update user set password=PASSWORD("NOUA-PAROLA") where User='root';
flush privileges;
quit
Rezultate in urma comenzilor de mai sus:
mysql> use mysql;
Reading table information for completion of table and column names
You can turn off this feature to get a quicker startup with -A

Database changed
mysql> update user set password=PASSWORD("123456") where User='root';
Query OK, 0 rows affected (0.00 sec)
Rows matched: 3  Changed: 0  Warnings: 0

mysql> flush privileges;
Query OK, 0 rows affected (0.01 sec)

mysql> quit
Bye
[root@server ~]#
6. Oprim si repornim serviciul / serverul MySQL
service mysqld stop
service mysqld start
Rezultat:
Starting MySQL:                     [  OK  ]
In imaginea de mai jos, este aratat tot procesul de resetare a parolei user-ului root al MySQL.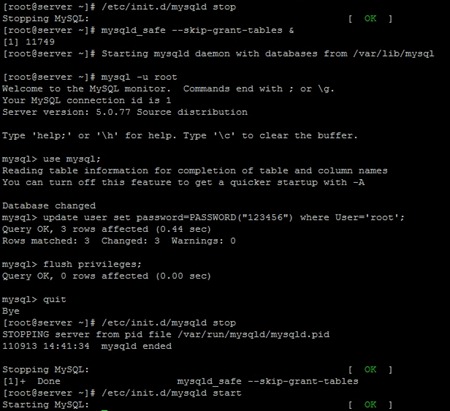 Acum ne putem conecta la MySQL (prin phpMyAdmin de ex.) cu user-ul root, folosind noua parola setata mai sus.
Tutorial testat pe CentOS 5.6 cu MySQL Ver 14.12 Distrib 5.0.77, for redhat-linux-gnu (i686) using readline 5.1.
Recuperare MySQL Server root Password