Dupa ce in 2012 Microsoft a trebuit sa renunte la denumirea de interfata Metro pentru Windows 8, inlocuind-o cu interfata Moderna (responsabili de aceasta modificare fiind cei de la German Metro AG), se pare ca anul acesta vine cu o noua schimbare de nume pentru un produs al companiei, si anume redenumirea SkyDrive in OneDrive (evident, si pentru aceasta modificare exista un responsabil, de data aceasta fiind vorba de British Sky Broadcsting Group sau, mai pe scurt, BSkyB).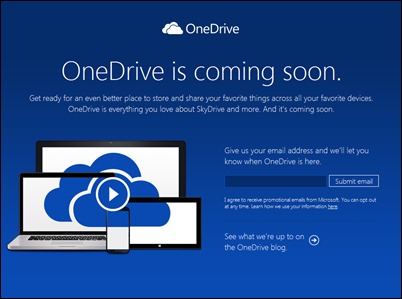 In urma cu cateva zile, Microsoft a facut anuntul oficial cum ca SkyDrive va deveni cunoscut ca OneDrive in curand, explicatia companiei pentru schimbarea de nume a serviciului de stocare online fiind una ceva mai poetica decat cea reala, si anume aceea ca utilizatorii, desi folosesc mai multe dispozitive (laptop, telefon, tableta), nu isi doresc decat un singur loc unde sa stocheze fisierele importante, cum ar fi documentele, pozele sau clipurile video:
Why OneDrive? We know that increasingly you will have many devices in your life, but you really want only one place for your most important stuff. One place for all of your photos and videos. One place for all of your documents. One place that is seamlessly connected across all the devices you use. You want OneDrive for everything in your life.
Vestea buna este ca utilizatorii SkyDrive nu vor intampina probleme in ceea ce priveste folosirea serviciului online, Microsoft garantand ca acesta va fi neintrerupt, singura modificare fiind doar numele acestuia si site-ul pe care fisierele utilizatorilor vor fi disponibile (onedrive.com in locul skydrive.com). Cel mai probabil in scurt timp va fi lansat si un update pentru aplicatia SkyDrive, care va aplica si schimbarea de nume si care se va asigura ca pentru accesarea fisierelor va fi folosit noul nume de domeniu.
Momentan SkyDrive inca este functional, iar OneDrive inca nu a fost lansat, utilizatorii putand afla mai multe detalii despre modificarile aduse serviciului online pe onedrive.com.
STEALTH SETTINGS – SkyDrive changes its name in OneDrive
SkyDrive isi schimba numele in OneDrive