Inca nu a fost lansata nici o versiune oficiala de Windows 8, dar in urma prezentarii oficiale au aparut pe Internet foarte multe variante si "transformation pack-uri" ale Windows 8.
Una dintre cele mai reusite "versiuni" de Windows 8 pana in acest moment pare a fi Windows 8 UX Pack 2.0, care permite transformarea sistemului Windows 7 in Windows 8 fara a afecta fisierele de sistem. Windows 8 UX Pack 2.0 inegreaza temele Aura, Mosaic, Zetro UI plus alte cateva modificari de interfata.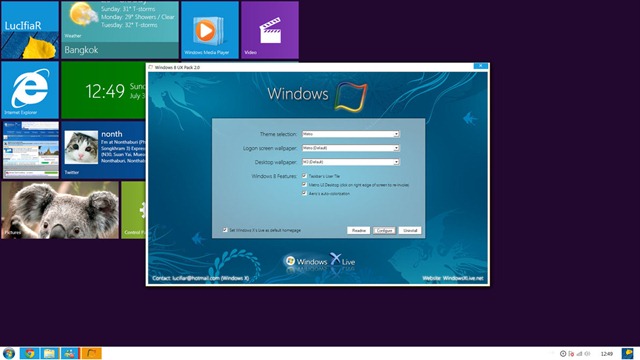 Pagina oficiala – windowsx (deviantart.com)
Windows 8 UX Pack Featured :
Instantly dress up Windows 7 to upcoming Windows 8 in one minute
Seamless installation and uninstallation giving user's confidence and security in system.
Easily configurable in single click with intelligence Metro UI design
UxStyle memory patching
Windows 8 Aero, Aero Lite or Metro theme
Instant M3 and Metro wallpaper/logon screen customization
UserTile with current user auto-configured on login
Metro UI desktop emulation with pre-configured gadgets
Aero's auto-colorization feature
Download Windows 8 Transformation Pack – Windows 8 UX Pack 2.0 (Windows 7)
Download Link
Acest Windows 8 transformation pack este conceput pentru Windows 7 si poate fi dezinstalat cu usurinta sau reinstalat si reconfigurat, insa inainte sa-l instalati este indicat sa faceti un System Restore Point.