antvrs.exe este un proces asociat cu programele spyware si apartine software-ului AntiVirus2008, cunoscut ca antivirus fals. Acesta, odata instalat in sistem, raporteaza infectii false sau exagerate ca numar, plus numeroase presupuse vulnerabilitati in securitatea sistemului.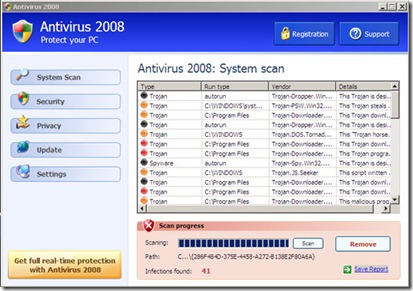 Apoi afiseaza un dialog in care avertizeaza userii ca trebuie sa cumpere licenta pentru versiunea completa a software-ului pentru a putea curata sistemul de presupusele infectii.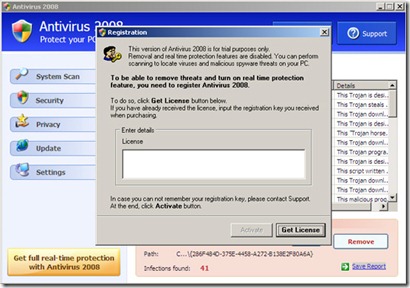 AntiVirus2008 creaza intrarea HKEY_CURRENT_USER\Software\Microsoft\Windows\CurrentVersion\Run\"Antivirus" = "%ProgramFiles%\Antivirus 2008\Antvrs.exe" in Registry Editor pentru ca procesele acestuia sa fie executate de fiecare data cand sistemul este pornit sau restartat.
De cele mai multe ori, AntiVirus2008 este downloadat de alte programe malware insa poate fi downloadat manual de catre userii neavizati de pe www.antivirus-scanner.com.
Daca descoperiti antvrs.exe ruland in sistemul dvs, este recomandat sa identificati locatiile unde acest antivirus fals si-a plasat fisierele si apoi sa le stergeti din sistem.
Pentru a sterge AntiVirus2008 din PC-ul dvs urmati pasii:
1. Mergeti in StartMenu, dati click pe Search si selectati All files and folders. In All or part of the the file name tastati antvrs.exe, selectati Look in: My Computer si dati Search. Dupa ce Windows-ul a terminat cautarea, deschideti folderul care contine AntiVirus2008, copiati calea catre acesta si salvati-o intr-un fisier text.
2. Deschideti Task Manager-ul, cautati antvrs.exe in lista Image Name apoi selectati procesul si dati click pe butonul End Process.
3. Deschideti Command Prompt (StartMenu->Run->cmd) si tastati dir folder_path (unde folder_path este calea catre folderul in care ati localizat fisierele Antivirus2008 – ex C:\Windows\Antivirus2008) pentru a lista continutul respectivului folder. Pentru a naviga in subfoldere tastati cd numele_subfolderului. Odata ce ati identificat fisierele, tastati del numele_fisierului sau, daca doriti sa stergeti intregul folder, tastati rmdir /s numele_folderului si dati Enter.
Apoi deschideti editorul de registri si stergeti intrarile
Antivirus din HKEY_CURRENT_USER\Software
Antivirus din HKEY_LOCAL_MACHINE\SOFTWARE
Restartati sistemul si apoi efectuati o scanare completa a acestuia pentru a verifica daca mai aveti fisiere/programe malware pe care nu le-ati identificat.