In ultima vreme, folosirea serviciilor online de stocare (Dropbox, Google Drive sau Amazon Cloud Drive) a devenit din ce in ce mai populara, iar Microsoft chiar a integrat propriul serviciu de acest gen, si anume SkyDrive, in cel mai recent sistem de operare Windows. Cu toate acestea, dintre toate serviciile de stocare online, singurul care adauga optiunea de a trimite fisierele direct in cloud folosind submeniul Send to (din meniul de click-dreapta) este Dropbox-ul, ceea ce inseamna ca persoanele care folosesc (si) alte servicii de acest gen trebuie sa dea copy/paste (sau drag&drop) fisierelor in folderele respectivelor servicii pentru ca acestea sa fie salvate in cloud.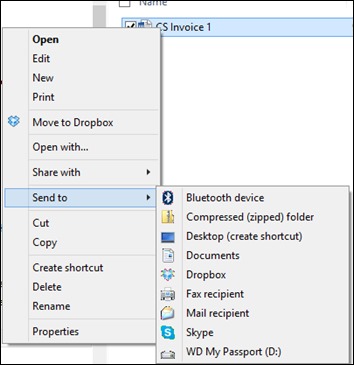 Cum putem adauga locatii din Cloud in meniul Send to din Windows 8.1?
in primul rand, va trebui sa activati vizualizarea fisierelor ascunse din sistem (pentru a face acest lucru, deschideti meniul Charms, tastati hidden files in campul de sub Search, dati click pe primul rezultat afisat apoi selectati optiunea Show hidden files, folders and drives)
apoi reschideti Run (Windows + R), tastati shell:sendto si dati Enter
din panoul de navigatie afisat in partea stanga a File Explorer-ului, selectati serviciile pe care doriti sa le adaugati in meniul Send to cu click-dreapta si trageti-le in folderul SendTo deschis mai devreme, apoi dati click pe optiunea Copy here
Si gata. In felul acesta, puteti adauga locatiile cloud pentru serviciile de stocare online folosite in meniul Send To din Windows 8.1.
Nota: In timp ce majoritatea serviciilor de stocare online creaza simple shortcut-uri la adaugarea acestora in meniul Send to, SkyDrive va adauga o copie intreaga a folderului, incluzand toate fisierele stocate in acesta. De aceea se recomanda adaugarea directa a unui sortcut al folderului respectiv.
STEALTH SETTINGS – How to add Cloud locations in Send To menu (Context Menu) in Windows 8.1
Cum putem adauga locatii din Cloud in meniul Send to (Context Menu) din Windows 8.1