Unul dintre motivele de nemultumire ale utilizatorilor Windows 8 in ceea ce priveste Start Screen-ul este acela ca in mod implicit in Start Screen nu pot fi create shortcut-uri (tile-uri) decat pentru aplicatii, neexistand optiunea de a fixa (pin) si alte tipuri de fisiere pe acesta. De exemplu, daca obisnuim sa lucram zilnic cu anumite documente, e normal sa ne dorim sa putem sa le deschidem direct din Start Screen. Din fericire aceasta problema poate fi rezolvata destul de simplu cu ajutorul unei aplicatii third-party, numita Tile A File.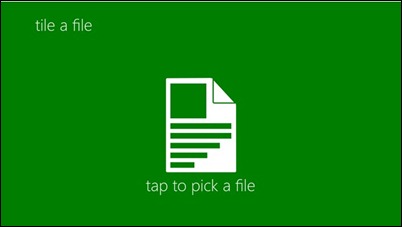 Tile A File este un tool freeware, care le permite utilizatorilor Windows 8 sa creeze tile-uri pe Start Screen pentru fisierele pe care obisnuiesc sa le foloseasca in mod constant, astfel incat acestea sa poata fi deschise rapid, ori de cate ori este necesar. Aplicatia suporta tile-uri de forma patrata (square) sau dreptunghiulara (wide), si permite si afisarea de thumbnail-uri pentru fisierele dvs in tile-urile create.
Cum se foloseste Tile A File?
Interfata aplicatiei este foarte simplu de inteles si utilizat, singurul mod de a interactiona cu aceasta fiind butonul tap to pick a file prezent in centru. Utilizatorii pot selecta orice tip de fisier, cum ar fi cele video si audio, imagini, documente, arhive rar sau zip etc. Odata selectat fisierul, dati click pe Open.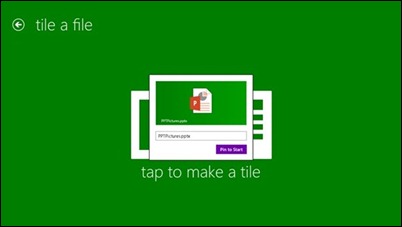 Tile A File le permite utilizatorilor si sa aleaga un nume custom pentru tile-ul creat inainte de a-l fixa pe Start Screen. Acestia trebuie doar sa dea click pe tap to make a tile, sa introduca numele dorit, apoi sa dea click pe Pin to Start. Dupa creare tile-ului aplicatia se va inchide automat.
Download Tile A File (via Windows Store).
STEALTH SETTINGS – How to create tiles for any file types in Windows 8 Start Screen
Cum putem crea tile-uri pentru orice tip de fisier in Windows 8 Start Screen