Atunci cand impartim o locuinta (sau un birou) cu alte persoane, fie ca este vorba de colegi (de apartament sau de servici) sau de familie, este normal sa ne dorim ca acestia sa nu ne foloseasca lucrurile personale printre care, evident, se numara si computerul, fara voia noastra. Din fericire, Windowsul respecta nevoia de intimitate a utilizatorilor, oferindu-le acestora posibilitatea sa fie notificati ori de cate ori cineva se logheaza pe computerul personal.
Cum putem seta Windowsul sa ne notifice via e-mail atunci cand un utilizator se logheaza pe computer?
Pentru a fi notificati atunci cand alt utilizator ne foloseste computerul avem nevoie de 3 (trei) lucruri: Windows Task Scheduler, utilitatea SendEmail si o conexiune activa la internet (daca PC-ul nu este conectat la internet, e-mailul de notificare nu va fi trimis).
Windows Task Scheduler poate fi setat sa trimita e-mailuri ca raspuns la o serie de activitati ale sistemului. Din pacate, desi are integrat un feature de trimitere e-mailuri, acesta nu este foarte flexibil si nu corespunde cu necesitatile majoritatii userilor. Adica, daca un utilizator foloseste un server SMTP care necesita autentificare, detaliile de autentificare ale acestuia trebuie sa fie aceleasi cu detaliile de autentificare ale contului de utilizator Windows pentru ca feature-ul de trimitere e-mailuri al Task Scheduler-ului sa functioneze. De aceea, pentru a putea realiza acest task, vom folosi un tool gratuit de trimitere e-mailuri prin command line, si anume SendEmail.
deschideti Task Scheduler (tastati task scheduler in Start Menu si dati Enter), apoi dati click pe optiunea Create Task din sidebar (partea dreapta)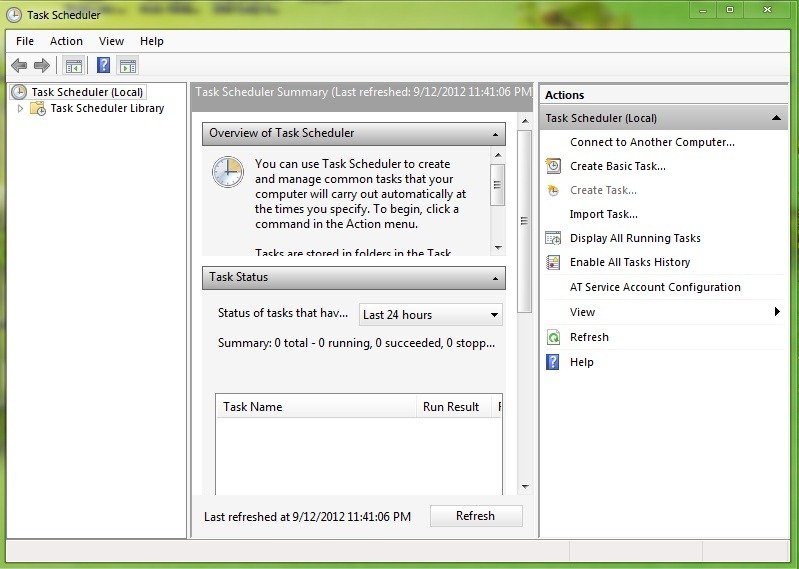 in tab-ul General, alegeti un nume pentru task (de exemplu E-mail de logare) si dati o descriere acestuia (de exemplu Notifica-ma cand cineva se logheaza pe computerul meu), apoi selectati optiunea Run whether user is logged on or not.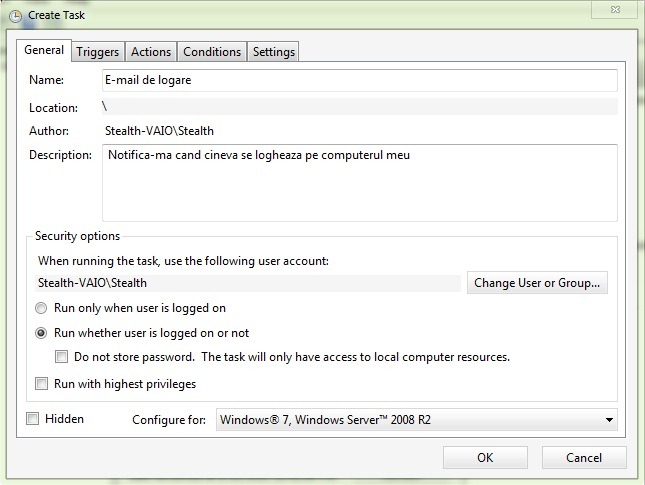 in tab-ul Triggers, dati click pe New (partea de jos a ferestrei), apoi selectati At log on din meniul drop-down din dreptul Begin the task, selectati Any user si dati click pe OK.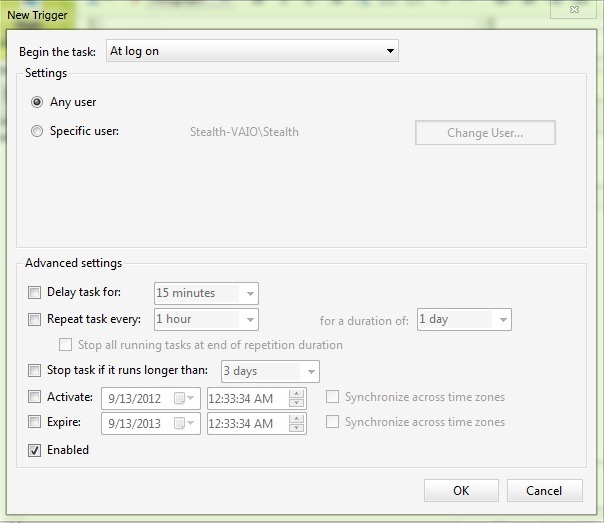 in tab-ul Actions creati o actiune noua care ruleaza aplicatia sendemail.exe (link de download la sfarsitul articolului): dati click pe butonul New, apoi in fereastra deschisa, selectati Start a program in dreptul Action, in campul de sub Program/Script scrieti locatia unde ati salvat aplicatia sendemail.exe, iar in campul din dreptul Add argument scrieti linia urmatoare:
-f from@gmail.com -t to@gmail.com -u Cineva s-a logat pe computer -m Un utilizator tocmai s-a logat pe computerul tau! -s smtp.gmail.com:587 -xu from@gmail.com -xp password -o tls=yes

(in care inlocuiti from si to cu numele user-ului dvs de Gmail, iar password cu parola contului dvs de Gmail)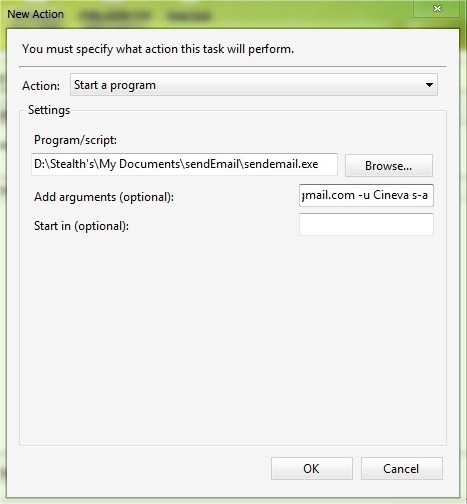 in tab-ul Conditions, debifati optiunea Start the task only if the computer is on AC, altfel nu veti primi e-mail daca aveti un laptop, iar alt utilizator se logheaza pe acesta cand este pe baterie.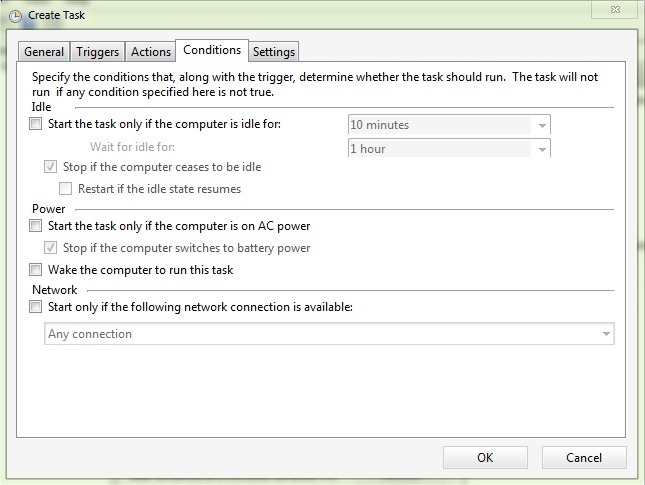 apoi dati click pe OK si salvati-va task-ul (in cazul in care aveti setata parola pentru logarea in Windows, va trebui s-o introduceti si la salvarea task-ului).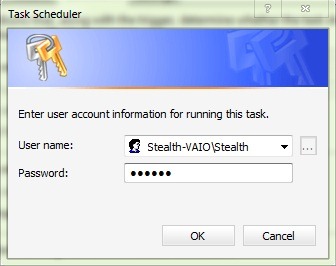 Apoi, ori de cate ori un utilizator se va loga pe computerul dvs, veti primi notificari via Gmail.
Nota: Nu este obligatoriu sa folositi un cont de Gmail pentru a programa notificarile de logare, insa va trebui sa schimbati informatiile pentru serverul smtp al Gmail cu cele ale provider-ului serverului smtp folosit de respectivul cont de e-mail!
STEALTH SETTINGS – How to get Gmail notifications whenever someone logs into your computer