Utilizatorii Windows 8 au doua modalitati de a se loga in sistem: una dintre acestea este cu un user local, iar cealalta cu ajutorul unui cont Microsoft (Oultook.com, Hotmail, Live sau MSN). Avantajul utilizarii unui cont Microsoft pentru logarea in sistem este acela ca userii pot sincroniza toate datele, setarile si customizarile aplicate (culori, imagini de fundal si pentru user, background-uri, teme, preferintele in ceea ce priveste limba folosita de sistem, setarile aplicatiilor si ale sistemului, parole, istoria, favoritele si bookmark-urile din Internet Explorer etc.) intre toate computerele si dispozitivele cu Windows 8 folosite. In plus, in Windows 8.1, utilizatorii pot sincroniza intre mai multe computere/dispozitive cu acest sistem de operare instalat si tile-urile din Start Screen si setarile de design.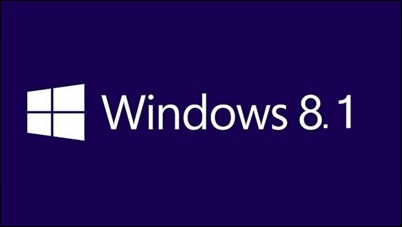 Cu toate acestea, desi logarea in Windows 8/Windows 8.1 cu un cont Microsoft prezinta foarte multe avantaje (ca cele prezentate mai sus), multi utilizatori prefera sa se logheze insa cu un user local.
In Windows 8 utilizatorii au posibilitatea de a alege atunci cand instaleaza sistemul de operare daca doresc sa se logheze cu un cont Microsoft sau cu un user local. In Windows 8.1 insa optiunea de logare cu un user local lipseste din setup, utilizatorii fiind intampinati de un ecran care afiseaza doar Sing in to your Microsoft account, singurele optiuni disponibile in afara de aceasta fiind Don't have an account? si Create a new account.
Cum putem instala Windows 8.1 fara a folosi un cont Microsoft?
in timpul setup-ului, cand ajungeti la ecranul de logare Sign in to your Microsft account, dati click pe link-ul Create a new account disponibil in coltul din stanga-jos al ecranului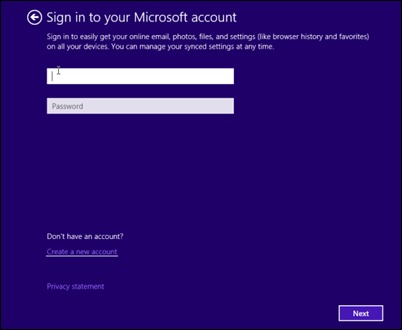 apoi, in ecranul Create a Microsoft account, dati click pe link-ul Sign in without a Microsoft account (partea de jos a ecranului)
introduceti numele unui user si o parola pentru acesta (optional), si apoi urmati restul de pasi pentru instalarea sistemului de operare
In cazul in care ati instalat deja Windows 8.1 folosind un cont Microsoft si doriti sa schimbati modul de logare din logarea cu un cont Microsoft in logarea cu un user local, urmati pasii de mai jos:
deschideti PC Settings (deschideti meniul Charms si selectati Settings, apoi dati click pe Change PC settings)
in panoul afisat in stanga, dati click pe Accounts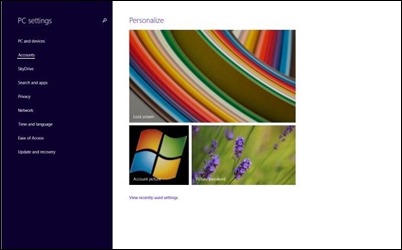 in fereastra deschisa, dati click pe link-ul Disconnect afisat sub contul de Microsoft cu care v-ati logat (partea dreapta a ferestrei Accounts)
in Switch to a local account, introduceti parola contului Microsoft folosit pentru a primi aprobarea crearii unui user local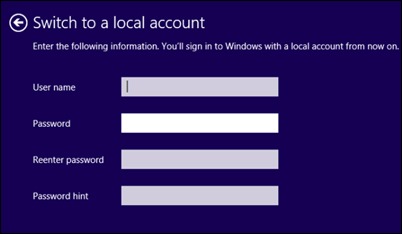 apoi introduceti un nume pentru contul local, o parola pentru acesta si un hint pentru parola (parola este optionala, insa este recomandata pentru protejarea contului) si dati click pe Finish
Succes!
STEALTH SETTINGS – How to install Windows 8.1 without using a Microsoft account
Cum putem sa instalam Windows 8.1 fara a folosi un cont Microsoft