Bara de instrumente Drawing permite, prin intermediul butoanelor sale, desenarea unor forme geometrice. Daca nu aveti activa bara de instrumente Drawing o puteti activa accesand Butonul Tools – Customize, activati bifa Drawing din fereastra Toolbars.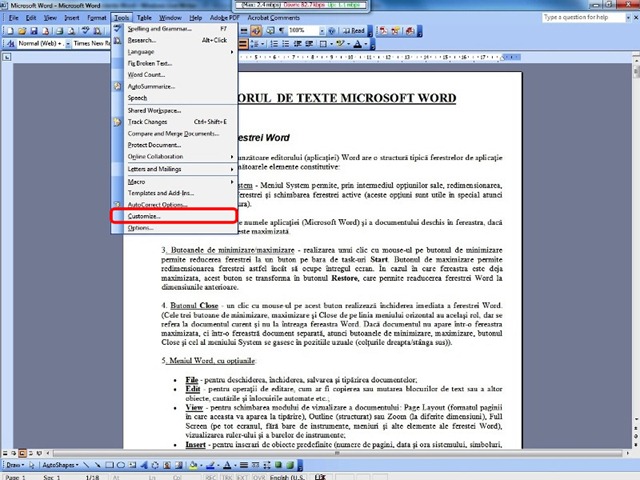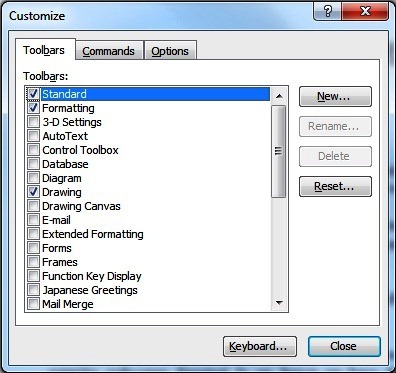 Butoanele Line, Arrow, Rectangle si Oval creeaza forme geometrice simple: linie, sageata, dreptunghi si elipsa. Butonul Text Box permite inserarea unor cutii de text iar butonul Insert WordArt este folosit pentru inserarea unor obiecte WordArt. Prin selectarea butonului AutoShapes se deschide un meniu vertical ale carui optiuni pun la dispoziţia utilizatorului instrumente pentru crearea unor diverse tipuri de linii, forme de baza, sageti, bannere, stelute si descriptori.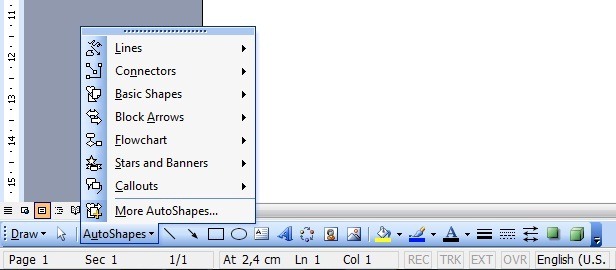 Un descriptor (Callout) este format dintr-o cutie de text si un indicator care poate lua diferite forme si care va indica spre obiectul referit de catre descriptor. Urmatorul grup de trei butoane este destinat modificarii culorii de umplere (Fill Color), culorii liniei (Line Color) si fonturilor (Font Color). Dimensiunile si forma liniei pot fi modificate prin intermediul butoanelor Line Style si Dash Style iar forma unei sageti poate fi modificata prin intermediul butonului Arrow Style. Butoanele Shadow si 3-D permit aplicarea de umbre si efecte tri-dimensionale asupra obiectelor grafice selectate.
Obiectele grafice pot fi pozitionate atat deasupra cat si sub text sau alte elemente grafice. Astfel, optiunile submeniului Draw-Order, permit pozitionarea elementului grafic curent dedesubtul elementelor din proximitate (Send To Back), deasupra lor (BringTo Front), deasupra textului (Bring In Front of Text) sau dedesubtul lui (Send Behind Text).

Opţiunile Group, Ungroup si Regroup ale submeniului Draw permit gruparea, degruparea si regruparea mai multor obiecte grafice selectate (selectarea se realizeaza folosind butonul simbolizat cu o sageata similara cursorului mouse-ului). Mai multe elemente grafice care au fost grupate pot fi utilizate global (mutate, redimensionate etc).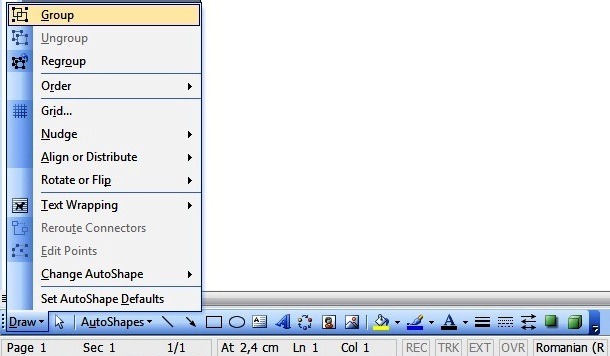 Optiunile submeniului Rotate or Flip permit oglindirea orizontala (Flip Horizontal) si verticala (Flip Vertical) a formei grafice curente, precum si rotirea acesteia spre dreapta (Rotate Right) sau spre stanga (Rotate Left).