Zilele trecute am avut nevoie sa export contactele din Microsoft Office 2010 pe un telefon Sony-Ericsson cu sistem de operare propriu. Nu mica mi-a fost surprinderea sa constat ca in configaratia default, Microsoft Outlook Office 2010 nu imi permite sa export toate contactele simultan decat in format .TXT. (Select all contacts > File > Save As…). Format text care nu ma ajuta prea mult sa-mi copiez contactele din Outlook in agenda telefonului.
Daca selectam toate contactele (Ctrl+A) din Outlook 2010 Contacts, apasam Ctrl+C (Copy) si apoi Ctrl+V (Pate) intr-un folder, observam ca am reusit un export de contacte in format .MSG.
Formatul .MSG este inteles de majoritatea telefoanelor mobile care au sisteme de operare Windows Mobile, Symbian sau Android, insa pe un telefon cu sistem de operare noname (propriu) putem avea neplacuta surpriza ca formatul .MSG sa nu fie inteles.
Cum putem exporta contactele, mail-urile, notitele si agenda din Microsoft Office 2010, intr-un format inteles de telefonul mobil sau de o alta aplicatie.
Outlook Data Export (v1.3.0.13) este o aplicatie (add-in) pentru Microsoft Outlook 2007 (compatibila 2003, 2010) care ne ajuta sa exportam datele (mail, contact, appointment, task, note, journal, mobile items & RSS feeds) din Outlook in formatele: Unicode MSG, MSG, DOC, TXT, RTF, HTML, MHTML, OFT, CSV, XML, ICS, VCS, VCF.
Cum instalam si cum utilizam Outlook Data Export (v1.3.0.13)  in Microsoft Outlook 2010.
1. In primul rand va trebui sa descarcam si sa instalam aplicatia.
2. Deschidem Outlook-ul, mergem la tab-ul Add-Ins, iar de acolo facem click pe Outlook data export.
3. Selectam din lista care se deschide la "Outlook data export" ce anume ne intereseaza sa exportam. Mail-uri, contacte, tasks, notes sau agenda.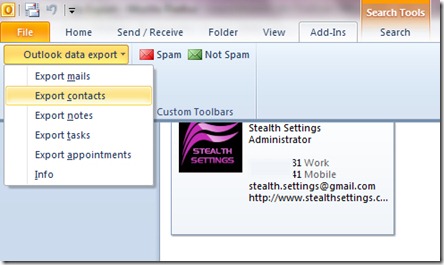 In cazul meu, aveam nevoie sa export simultan toate contactele de pe Outlook Office 2010 in format vCard.
4. Daca alegem sa exportam contactele, dupa ce facem click pe "Export contacts" se va deschide "Outlook Contact Export", care ne ofera posibilitatea sa exportam toate contactele in formatele : MSG, MSG Unicode, vCard, RTF, TXT, CSV sau XML.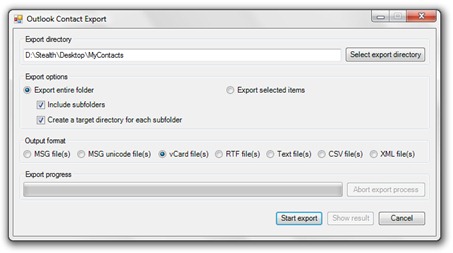 Alegem un folder in care sa fie exportate contactele, formatul in care dorim sa se faca exportul si facem click pe "Start Export".
Dupa ce se finalizeaza procesul de export, mergem in folderul in care am cerut sa fie salvate contactele ca sa vedem rezultatul final.
Eu am folosit Outlook Data Export v1.3.0.13 (versiune dezvoltata pentru Office Outlook 2007) pe Microsoft Office 2010, insa pentru aceasta versiune de Office exista si o versiune de Outlook Data Export care se aflta in versiune Beta.
Outlook Data Export 2.0 Features:
* Support of Outlook 2010
* Simple export of all items
* New, simplified user interface
* Export of journal items, mobile items and RSS feeds
* 32bit and 64bit installation files
* More stable core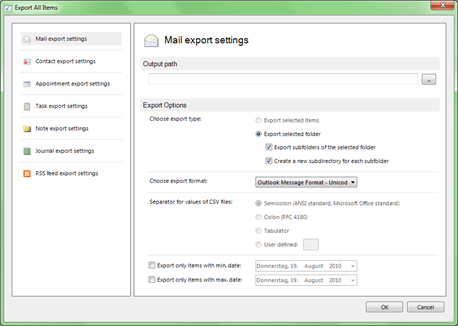 Outlook Data Export 2.0 este compatibila pe Outlook 2007/2010 32/64bit .
Stealth Settings – Export contact, appointment, task, note, journal, mobile items & RSS feeds in Microsoft Outlook Office 2007 & 2010.
Export Contacts, Mails, Notes, Tasks & Appointments din Outlook Office 2003, 2007 & 2010. Office Add-Ins