La aproape o saptamana de la lasarea iOS 11, Apple a lansat si macOS High Sierra. Cel mai recent sistem de operare pentru iMac, Mac, MacBook, MacBook Air si MacBook Pro.
Noul macOS High Sierra aduce cateva schimbari fata de versiunea precedenta, insa nu putem spune nici pe departe ca apar schimbari vizibile. Cel putin ca interfata grafica (UI) si ca functionalitati, nu se schimba mai nimic. macOS High Sierra pare a fi mai mult un sistem de operare lansat pentru a face fata noilor functii din iOS 11, decat pentru a aduce schimbari semnificative pe Mac.
Apple File System (APFS)
Ca si in cazul iOS 11, cea mai semnificativa schimbare adusa odata cu High Sierra este trecerea la noul sistem de fisiere Apple File System (APFS). Acest nou sistem de fisiere este proiectat special pentru unitati de disk SSD (solid state disk), devenind un standard pentru macOS High Sierra. O noua tehnologie pentru stocarea datelor, incompatibila pe hard disk-urile clasice sau pe Fusion.
APFS este mai sigur, mai securizat, ofera protectie sporita pentru accidente / crash, are criptare nativa si aduce o performanta mai buna.
Advanced. A new 64‑bit architecture is designed for today's flash technology and ready for tomorrow's new storage capabilities.
Responsive. Designed to make common tasks like duplicating a file and finding the size of a folder's contents happen instantly.
Safe and secure. Enjoy even more peace of mind with built‑in encryption, crash‑safe protections, and simplified data backup on the go.

High Efficiency Video Encoding (HEVC) si HEIF (High Efficiency Image File Format)
macOS High Sierra introduce suport si pentru High Efficiency Video Encoding (HEVC). Codare video de inalta eficienta pentru o mai buna comprimare, fara pierderi de calitate a imaginii video si HEIF (High Efficiency Image File Format) pentru poze mai mici / comprimate, dar cu o calitate foarte buna a imaginii. Mai buna chiar decat clasicul JPG.
Metal 2 API
Tot la partea de eficienta grafica, pe macOS High Sierra este adusa si viitoarea tehnologie de API pentru Metal 2. Ofera o serie de imbunatatiri pentru jocuri, aplicatii si animatii pe Mac. Totodata, acest feature al macOS High Sierra va ajuta si la crearea de continut VR si lucrul cu GPU extern pe viitoarea generatie de Mac ce va fi lansata in primavata lui 2018.
Noutati in Aplicatii pe macOS High Sierra
Pe langa update-urile de mai sus, invizibile pentru utilizatori, avem si redesenarea si imbunatatirea unor aplicatii Apple, prezente pe macOS.
Photos
Aplicatia nativa pentru fotografii permite acum editarea Live Photo. Adaugarea sau schimbarea efectelor live: Live, Loop, Bounce si Long Exposure. Pe langa acestea, s-au adaugat noi tool-uri pentru schimbare contrast, culori, tonuri si alte elemente.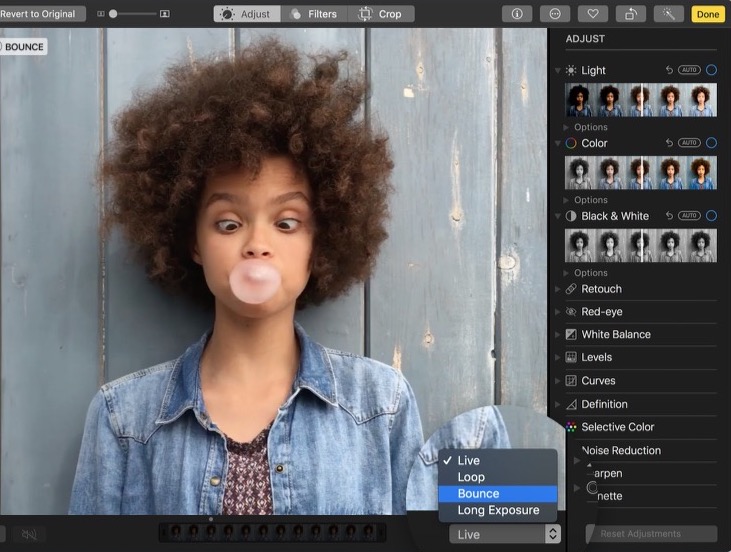 Intr-o oarecare masura, aplicatia Photos a devenit un fel de Lightroom al Apple. Filtrele fac fata cu brio unor editari pfofesionale.
Notes
Noutatile aduse in Notes, s-ar putea sa desfiinteze unele aplicatii pentru scanare documente, prezente in App Store. Vorbim acum de aplicatia pentru iOS. Pentru macOS High Sierra, Notes a primit suport pentru adaugare tabele si "pin note". Acestea din urma vor fi afisate in partea de sus a listei.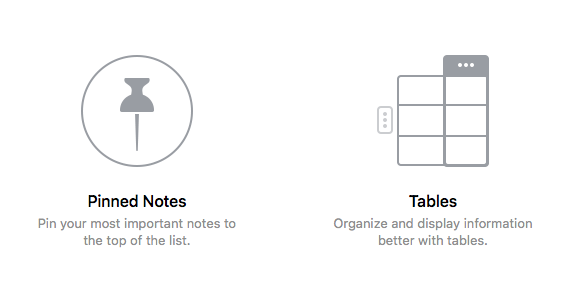 Compatibilitate macOS High Sierra
2009 si mai noi
– iMac (Late 2009)
– MacBook (Late 2009)
2010 si mai noi
– MacBook Air (Late 2010)
– MacBook Pro (Mid 2010)
– Mac mini (Mid 2010)
– Mac Pro (Mid 2010)
Sistemul poate fi descarcat gratuit din Apple App Store, iar procesul de instalare este foarte intuitiv.