Apple si-a prezentat recent noile sisteme de operare pentru toate iDevice-urile companiei. iOS 10, macOS Sierra, watchOS 3 si tvOS (10?), au fost deja lansate in versiune Beta 1, urmand sa fie disponibile in varianta finala in toamna acestui an. Asa cum ne-a obisnuit Apple in ultimii ani, odata cu lansarea unui nou device iPhone, se va lansa si o noua versiune de OS. Anul acesta, este randul gamei iPhone 7. Smartphone-uri ce vor rula noul iOS 10.
O noutate si o schimbare majora o avem la noul sistem de operare pentru laptopurile si calculatoarele Apple. Noul sistem de operare pentru MacBook Pro, MacBook Air, MacBook, iMac, Mac Pro si Mac Mini, se va numi macOS Sierra. Nu va mai avea celebrul "OS X". Asadar, "macOS" va lua locul "OS X" odata cu lansarea noii versiuni de OS.
Renuntarea la numele "OS X", ne duce cu gandul ca Apple se pregateste la trecerea de la versiunea majora 10 (care dadea "X"-ul – 10 roman) la versiunea 11, pentru sistemele de operare.
macOS Sierra este disponibil la download si instalare in versiune Beta 1, pentru developeri. Inrolarea in programul Apple Developers costa 99$ anual.
Noutati in macOS Sierra
Siri va fi implementat pe iMac si MacBook
Lansat in octombrie 2016 (iOS 6) pentru device-urile mobile (iPhone, iPad, iPod), Siri va fi disponibil din toamna lui 2016 si pe calculatoarele si MacBook-urile Apple.
Siri va tine de departe topul noutatilor pe macOS Sierra. Implementarea Siri pe toate device-urile Mac, va da posibilitatea utilizatorului sa controleze si sa ceara informatii vocal. Cu alte cuvinte, o sa vorbim cu Mac-ul, iar el o sa ne raspunda si o sa ne furnizeze informatiile solicitate vocal. De la cautari pe Google, pana la starea vremii, cautarea in mesaje si mail-uri, cautarea fisierelor dupa criterii solicitate, informatii despre spatiul de stocare disponibil pe Mac si alte informatii, vor putea fi solicitate prin comanda vocala catre Siri.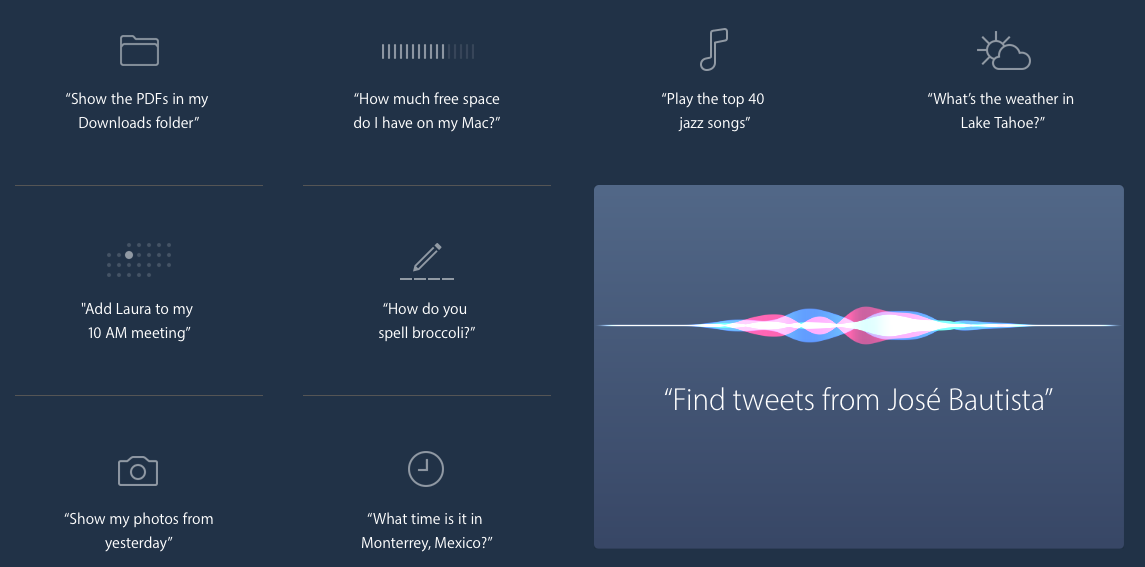 "Siri makes its debut on Mac, with new capabilities designed just for the desktop. And that's not the only way your Mac is smarter. macOS Sierra helps you rediscover your best photos, shop more securely online, and work more seamlessly between devices. It can also help free up valuable storage space. Now your Mac does even more for you, so you can do more with your Mac."
macOS Sierra va aduce noi optiuni pentru aplicatia Photos
O mai buna organizare a pozelor prin adaugarea categoriei inteligente "Memories", in care se vor crea slideshow-uri cu imagini sortate din locatii, date specifice, vacante, etc.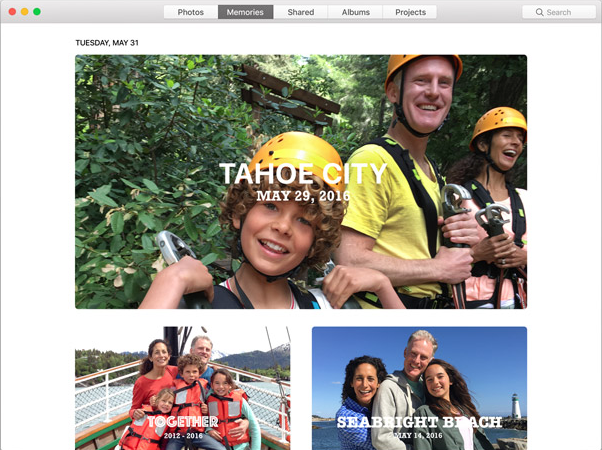 Optimizarea spatiului pe hard disk / SSD si stocare documentelor in iCloud
macOS Sierra, va aduce noi functionalitati ale iCloud si un nou sistem de management al fisierelor. Folderele importante ale sistemului de operare, Documents si Desktop vor fi sincronizate in iCloud putand fi accesate de pe toate device-urile pe care avem conectat Apple ID-ul.
Pentru a mentine mai mult spatiu liber pe hard pentru noile fisiere, macOS Sierra ne va pune in iCloud folderele si fisierele care nu sunt accesate frecvent. Acestea vor putea fi accesate oricand, atunci cand avem nevoie de ele. In plus, ne este mai usor sa identificam fisierle de care nu avem nevoie si sa le stergem.
Dupa parerea noastra, acesta este un feature mai important decat implementarea Siri in macOS.
"Storage space maxed out? No problem. macOS Sierra can help make more room by automatically storing rarely used files in the cloud and keeping them available on demand. It can also help you find and remove old files you no longer use. So there's always room on your Mac for new files and the ones you've used most recently."
Fiind momentan in versiune Beta 1, este foarte posibil ca pe macOS Sierra sa mai apara si alte noutati. Vom reveni cu noutati. :)