Marea majoritatea a aplicatiilor pentru Android necesita anumite permisiuni pentru a putea functiona, permisiuni care sunt afisate la instalarea aplicatiilor pentru ca utilizatorii sa aiba idee care sunt modificarile facute de respectivele aplicatii (de exemplu, daca aplicatia necesita scrierea de date in sistem sau cunoasterea locatiei utilizatorului pentru a functiona, are nevoie de permisiunea acestuia pentru a face lucrurile respective). Foarte multi utilizatorii insa nu au rabdare sa citeasca permisiunile cerute de aplicatiile pe care le instaleaza in sistem, ceea ce poate duce la anumite consecinte neplacute, avand in vedere ca foarte multe aplicatii pentru Android cer permisiuni care nu sunt necesare pentru functionare, sau folosesc permisiunile pentru a invada intimitatea utilizatorilor.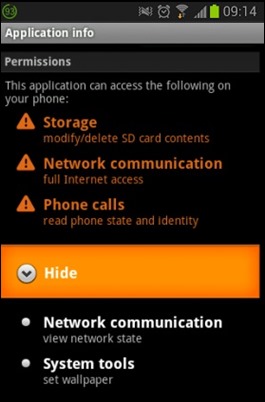 Bitdefender Clueful este o aplicatie gratuita pentru Android care scaneaza toate aplicatiile instalate in sistem pentru a identifica daca acestea prezinta riscuri pentru intimitatea utilizatorului. Clueful imparte aplicatiile scanate in trei categorii de riscuri: high, moderate si low, pe baza carora afiseaza scorul de securitate al sistemului respectiv (cu cat scorul este mai scazut, cu atat mai riscul este mai mare).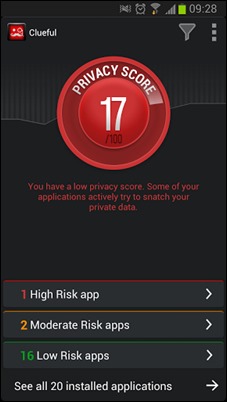 Utilizatorii pot accesa fiecare categorie in parte pentru a afla care sunt aplicatiile care fac parte din acestea si care sunt permisiunile care pot prezenta riscuri pentru intimitate. In plus, Clueful le ofera userilor posibilitatea de a dezinstala aplicatiile direct din ecranul informativ despre acestea (feature destul de folositor in cazul in care sunt identificate aplicatii cu risc ridicat sau aplicatii pe care utilizatorii nu le mai folosesc).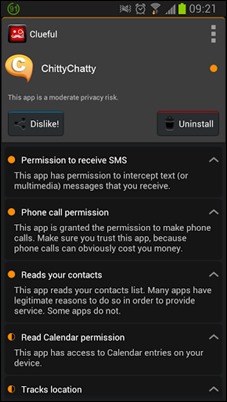 De asemenea, utilizatorii pot filtra aplicatiile, acestea fiind impartite in grupuri diferite cum ar fi Can cost you money, Use very intrusive ads, Have access to very sensitive data sau Track your location, pe baza carora utilizatorii pot determina care sunt aplicatiile cele mai riscante.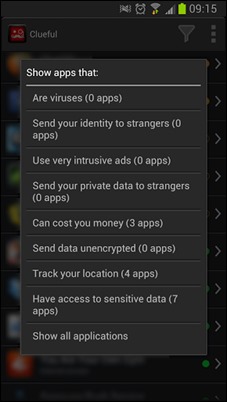 Download Bitdefender Clueful (via Google Play).
Nota: Clueful foloseste Bitdefender Cloud pentru a accesa cele mai noi informatii despre aplicatiile disponibile pentru Android.
STEALTH SETTINGS – Check your Android apps permissions with Bitdefender Clueful
Verifica permisiunilor aplicatiilor pentru Android cu Bitdefender Clueful