Outlook Mail and Calendar, este aplicatia care inlocuieste cu succes Outlook si Calendar din suita Office a Microsoft. Intergrata perfect in sistemul de operare Windows 10, aplicatia Mail and Calendar face fata atat cerintelor home user cat si business. Interfata intuitiva, lansare rapida si consum mic de resurse, posibilitatea de a adauga mai multe conturi de e-mail Office 365, Exchange, Outlook.com, Gmail, Yahoo! si alte adresa personale, plus functii intuitive de management al mesajelor primite si al conversatiilor deschise. Cu alte cuvinte, o aplicatie compacta si stabila, pentru email si calendar.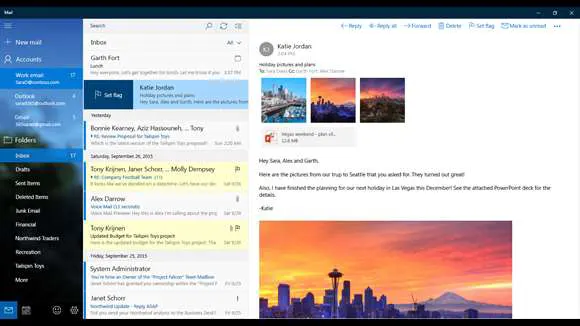 Microsoft a lansat recent un update foarte important pentru aplicatia Mail and Calendar. In acest nou update se permite deschiderea mesajelor noi intr-o fereastra noua – functie foarte utila, care ne permite sa navigam in alte mesaje din Inbox in timp ce compunem un mesaj nou – si adaugarea automata a sarbatorilor legale in Calendar.
Pe langa aceste noutati disponibile in Windows 10, Microsoft a mai adaugat noi features in Windows 10 Insider. Programul dedicat celor care doresc sa testeze versiuni Beta ale Windows 10 si aplicatiilor incorporate. Se testeaza in versiunea Beta, deschiderea / vizualizarea atasatamentelor .eml si salvarea mesajelor in acelasi format.
Aplicatia "Mail and Calendar" este gratuita si poate fi instalata pe toate sistemele de operare Windows 10 si Windows 10 Mobile.