Una dintre modificarile aduse de Windows 10 este si reintroducerea meniului de Start in sistem, insa, spre deosebire de Windows 8, unde Start Menu a fost inlocuit de Start Screen, in Windows 10 utilizatorii pot alege care dintre cele doua optiuni de Start doresc sa foloseasca (acestea insa nu pot fi folosite simultan). Pentru a schimba Start Menu-ul cu Start Screen-ul si viceversa, utilizatorii Windows 10 trebuie sa acceseze Taskbar and Start Menu Properties (dati click-dreapta pe Taskbar si selectati Properties din meniul afisat), apoi, in tab-ul Start Menu, debifati sau bifati (in functie de ce varianta de Start doriti sa folositi) optiunea Use Start menu instead of the Start screen.

In cazul in care doriti o modalitate mai rapida de a schimba Start Screen-ul cu meniul de Start si invers (desi schimbarea prin intermediul Taskbar and Start Menu Properties se face relativ simplu, pentru ca aceasta sa aiba efect trebuie sa dati Sign out apoi din nou Sign in), puteti descarca un script (link catre pagina de download la sfarsitul articolului) care adauga optiunea Toggle Start Menu/Screen in meniul de click-dreapta al Desktop-ului (in plus nu va trebui sa va delogati si sa va logati inapoi in sistem ori de cate ori doriti sa schimbati o varianta de Start cu cealalta).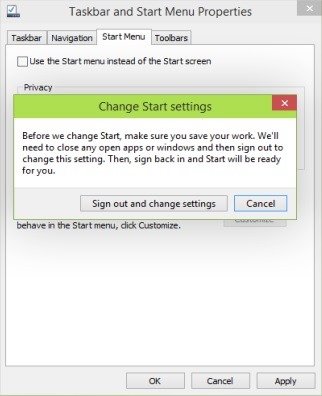 Cum adaugam optiunea Toggle Start Menu/Screen in meniul de click-dreapta al Desktop-ului in Windows 10?
descarcati arhiva care contine scriptul Toggle Start Menu/Start Screen, apoi extrageti continutul acesteia in folderul root al sistemului (daca Windows 10 este instalat pe partitia C:\, C:\ este folderul root)
apoi dati dublu-click pe fisierul .reg extras din arhiva (Add_Toggle_Start_Menu_or_Start_Screen_to_Context_Menu.reg) si confirmati ca doriti sa adaugati informatiile din acesta in registri de sistem (dati click pe Yes, apoi pe OK)
Si gata. Dupa ce veti face aceste modificari veti observa optiunea Toggle Start Menu/Screen afisata in Context Menu.
In cazul in care ulterior veti dori sa scoateti aceasta optiune din Context Menu, descarcati arhiva Remove Toggle Start Menu/Screen si urmati din nou pasii descrisi mai sus.
Download Toggle Start Menu/Screen script for Windows 10.
Nota: Inainte de a face modificari in registrii de sistem, efectuati un backup al acestora sau un restore point al sistemului pentru a putea repara orice eventuala eroare aparuta dupa folosirea scriptului.
Credit @tenforums.com
STEALTH SETTINGS – How to add Toggle Start Menu/Screen option to Desktop right-click menu in Windows 10