Fata de sistemele anterioare, File Explorer-ul din Windows 10 afiseaza in mod default folderul Home, care ia locul Libraries (Windows Vista si Windows 7) sau This PC (Windows 8), acestea putand fi accesate in continuare insa din Navigation Panel (partea stanga). De asemenea, in folderul Home sunt afisate atat folderele setate ca favorite de sistem, cat si folderele si fisierele accesate recent de catre utilizatori.
In timp ce acest lucru le poate fi de ajutor userilor, permitand accesul rapid la folderele si fisierele accesate recent, cei care obisnuiesc sa imparta destul de des computerul cu alte persone cel mai probabil vor dori sa dezactiveze afisarea acestora in Home, pentru a-si proteja intimitatea.
Cum dezactivam afisarea folderelor si a fisierelor accesate recent in folderul Home din Windows 10?
Una dintre metodele prin care poate fi dezactivata afisarea folderelor si fisierelor recente in folderul Home din Windows 10 File Explorer este prin intermediul Taskbar and Start Menu Properties, debifand in tab-ul Start Menu optiunea Store and display recently opened items in the Start menu and the taskbar.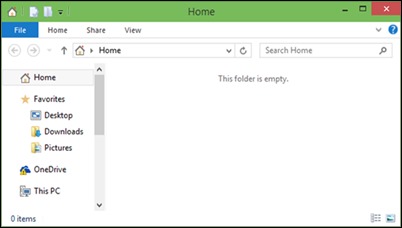 Folosind aceasta optiune insa, folderele si fisierele deschise recent nu vor mai putea fi accesate nici din Start Menu sau Taskbar (jumplist). In cazul in care doriti sa dezactivati afisarea folderelor si a fisierelor accesate recent doar in folderul Home, insa doriti ca acestea sa poata fi accesate in continuare din Start Menu sau Taskbar, urmati instructiunile de mai jos (inainte de a folosi aceasta metoda insa, obligatoriu creati un backup al registrilor sau un restore point a sistemului pentru o eventuala revenire la setarile default ale sistemului):
deschideti Registry Editor (tastati regedit in Run si dati Enter), apoi navigati catre key-ul HKEY_LOCAL_MACHINE\SOFTWARE\Microsoft\Windows\CurrentVersion\Explorer\ HomeFolder\NameSpace\DelegateFolders
sub DelegateFolders veti observa trei intrari (in partea stanga), fiecare dintre ele fiind corespunzatoare unei categorii de foldere sau fisiere afisate in Home: prima intrare este relationata cu folderele accesate recent, cea de-a doua intrare este relationata cu fisierele accesate recent, iar cea de-a treia este realtionata cu folderele favorite
pentru a dezactiva afisarea folderelor si a fisierelor accesate recent in folderul Home din File Explorer, stergeti primele doua intrari de sub DelegateFolders (daca doriti sa dezactivati si afisarea folderelor favorite, puteti sterge si cea de-a treia intrare)
In cazul in care ulterior veti dori sa reafisati folderele si fisierele recent accesate in Home, folositi backup-ul de registri sau restore point-ul pe care l-ati facut sistemului inainte de a efectua aceste modificari. Succes!
Nota: Pentru a face backup doar key-ului DelegateFolders (sub care se afla cele trei intrari corespunzatoare folderelor accesate recent, a fisierelor accesate recent si a folderelor favorite), dati click dreapta pe acesta si selectati Export.
STEALTH SETTINGS – How to remove recent folders and recent files from Home in Windows 10 File Explorer
Cum putem dezactiva afisarea folderelor si a fisierelor recent accesate in folderul Home in Windows 10 File Explorer