In versiunile de OS anterioare Windows 8, bootarea in Safe Mode se facea foarte simplu, apasand tasta F8 imediat dupa pornirea sistemului (inainte ca acesta sa booteze). Desi este posibila activarea bootarii in Safe Mode cu ajutorul tastei F8 si pentru Windows 8 si Windows 8.1, in mod default lucrurile sunt putin mai complicate: trebuie mai intai sa accesati meniul Advanced Startup Options (tineti apasata tasta Shift si in acelasi timp selectati Restart din meniul Power), apoi selectati optiunile Troubleshoot > Advanced Options > Startup Settings > Restart, apoi apasati tasta F4 pentru a boota in Safe Mode (sau F5 pentru a boota in Safe Mode with Networking, sau F6 pentru a boota in SafeMode with Command Prompt).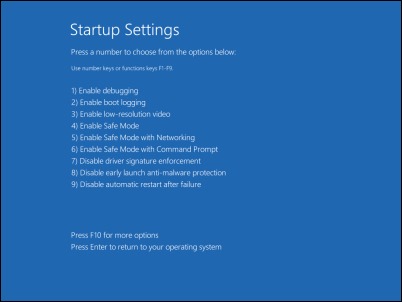 Insa exista o posibilitate de a restarta sistemul direct in Safe Mode in Windows 8/8.1 fara a folosi tasta F8 si fara a accesa meniul Startup Settings (optiune disponibila de asemenea si pe sistemele Windows anterioare), si anume prin intermediul utilitatii System Configuration.
pentru a accesa System Configuration deschideti Run (Windows + R), apoi tastati msconfig si dati Enter
apoi selectati tab-ul Boot
bifati Safe Boot si in functie de optiunea dorita, selectati Minimal, Alternate shell, Active Directory repair sau Network (daca nu cunoasteti diferenta intre optiunile enumerate, este recomandat sa lasati selectata optiunea Minimal), apoi dati click pe Apply si pe OK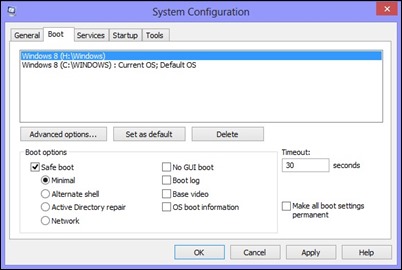 in mesajul de confirmare afisat dati click pe butonul Restart pentru a boota sistemul in Safe Mode
Atentie! Daca folositi aceasta metoda pentru a boota in Safe Mode, cand veti dori sa bootati normal in sistem, deschideti din nou msconfig si debifati optiunea Safe Mode, altfel, dupa restart veti boota inapoi in Safe Mode.
STEALTH SETTINGS – How to directly reboot in Safe Mode in Windows 8/8.1
Cum putem restarta direct in Safe Mode in Windows 8/8.1