Zilele acestea sunt in plina desfasurare campanii de vaccinare in aproape toate tarile lumii, iar programarea pentru vaccinare se poate face si online. Ceea ce ar trebui sa fie cea mai comoda si buna metoda de programare, sunt platforme guvernamentale care lasa de dorit. Un exemplu negativ este Romania, unde platforma dezvoltata si administrata de STS (Serviciul de Telecomunicatii Speciale) nu este cu mult mai performanta decat un "dosar cu sina".
Pe platforma de programari apar erori frecvente, iar utilizatorii sunt indrumati sa stearga memoria cache a browserului si istoricul de navigare inainte de a incerca din nou. In conditiile in care pandemia a adus in online oameni trecuti de varsta a doua care abia reusesc sa deschida o pagina web, sa stearga o memorie cache si un istoric de navigare este prea mult.
Daca sunteti intr-o situatie in care trebuie sa faceti acest lucru pentru putea accesa un formular sau o programare, urmatorul tutorial va fi de ajutor.
Cum stergem memoria cache, istoricul de nagivare si cookies pe Google Chrome
1. In Google Chrome mergem la meniul cu cele trei puncte din partea dreapta sus, click pe ele, apoi click pe "Settings".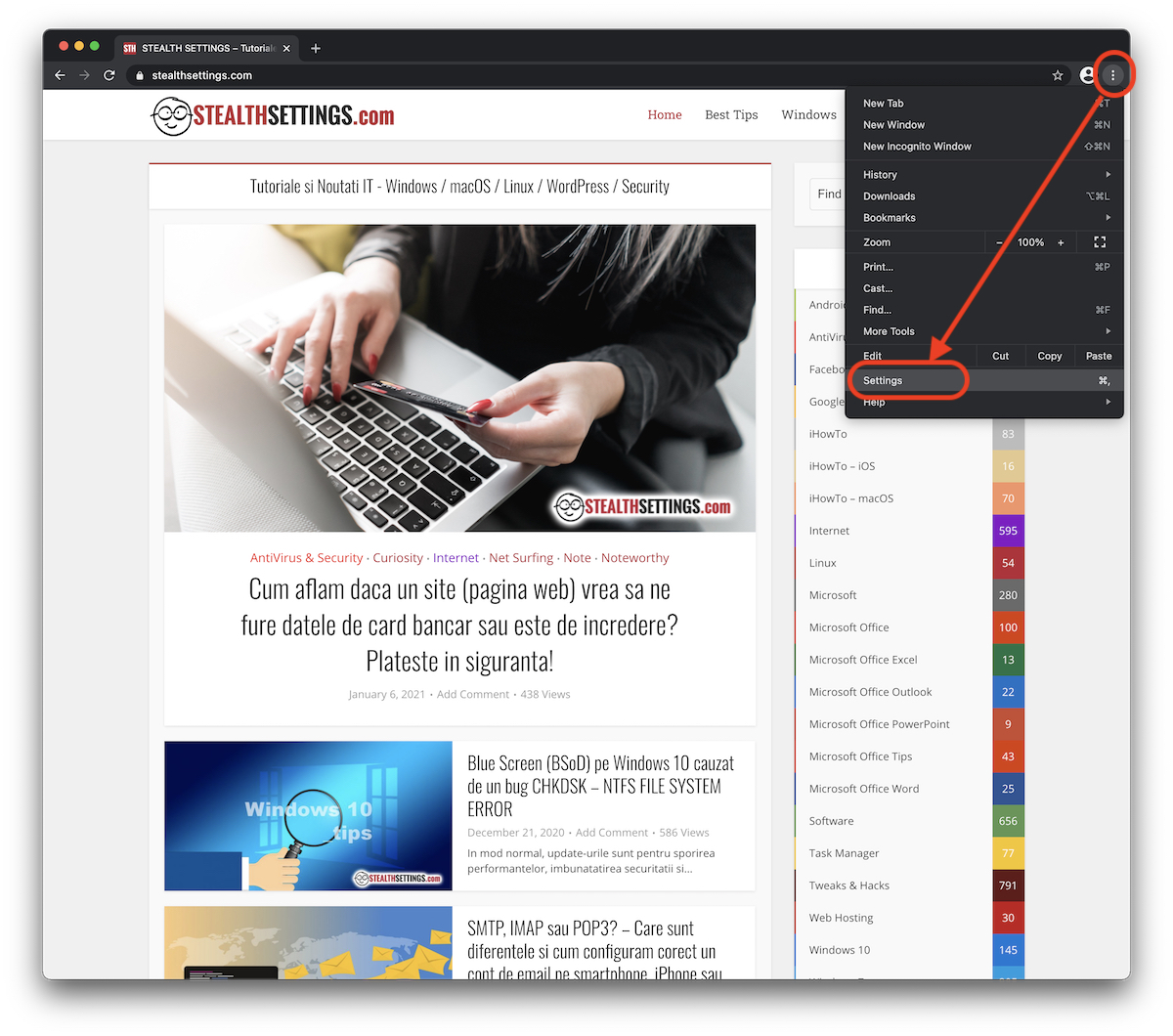 2. In bara de cautare din setari, tastam "cache" apoi click pe "Clear browsing data".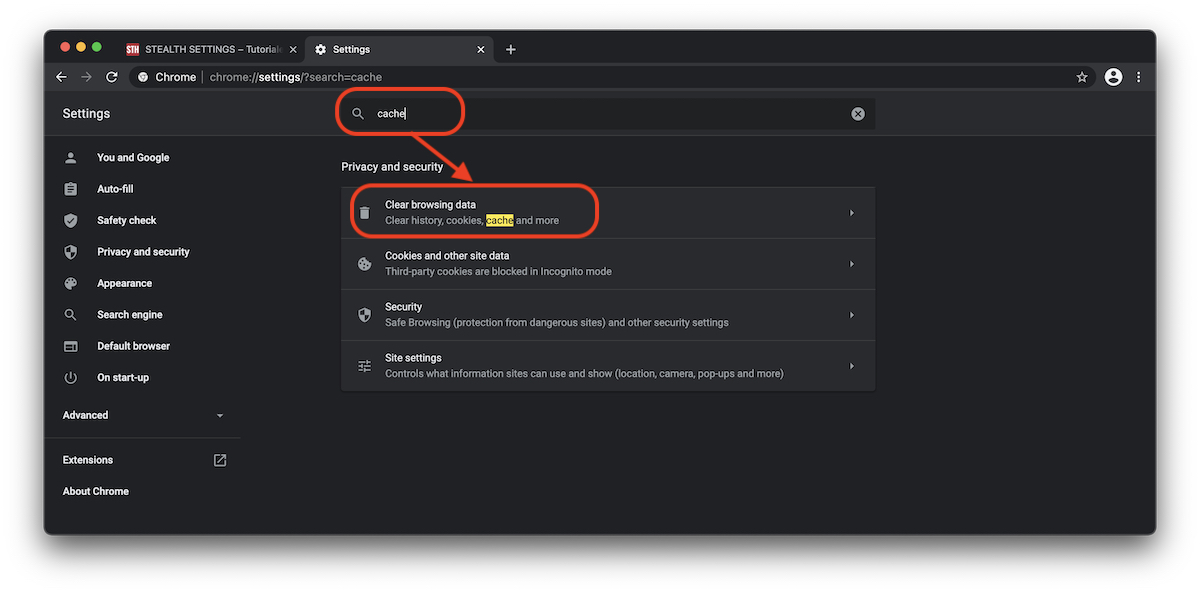 3. In "Clear browsing data" avem doua tipuri de optiuni. "Basic" si "Advanced". Pe langa "Browsing history", "Cookies and other site data" si "Cached images and files", in "Advanced" avem si posibilitatea sa stergem listele de download recente, completarea automata si parolele salvate. Pentru ce avem noi nevoie este suficient sa stergem datele din "Basic". Click pe "Clear data".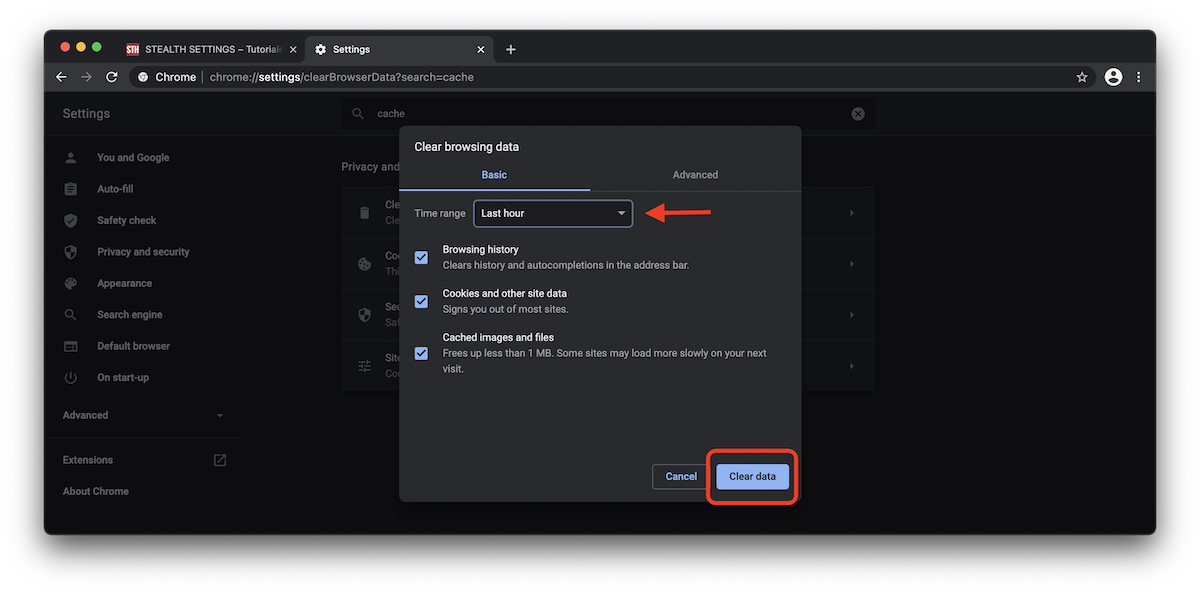 Aveti posibilitatea sa stergeti datele salvate in ultima ora, ultimele 24 de ore, 7 zile, 4 saptamani sau toate datele.
Pentru Microsoft Edge, Mozilla Firefox si Opera, urmati pasii similari. Difera doar modul de afisare si interfata.