In urma cu 2 saptamani Microsoft a lansat sistemul de operare Windows 8.1, acesta fiind pus la dispozitie gratuit (sub forma de update) tuturor utilizatorilor Windows 8 via Windows Store. O parte dintre utilizatorii care au facut upgrade-ul la Windows 8.1 prin intermediul Windows Store au reclamat dupa instalarea noului sistem de operare ca pe Start Screen sau in App List sunt afisate shortcut-uri "moarte" catre aplicatii moderne pe care utilizatorii le-au folosit in Windows 8, inainte de upgrade (daca se da click pe vreunul dintre aceste shortcut-uri defecte, este afisat mesajul de eroare This app can't open).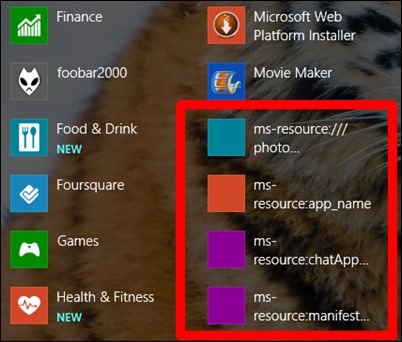 In cazul in care si dvs sunteti unul dintre utilizatorii care au intampinat aceasta problema dupa upgradarea la Windows 8.1, cel mai probabil folositi antivirusul Avast pentru securizarea sistemului (se pare ca problema este cauzata de interferenta antivirusului cu procesul de resetare/curatare al aplicatiilor si cu cel de updatare al shortcut-urilor in timpul upgradarii sistemului). Din pacate solutia nu este una chiar simpla. Daca se da click pe link-ul Go to store afisat sub mesajul de eroare, utilizatorii sunt intampinati de alt mesaj de eroare:

Iar daca se da click dreapta pe vreunul dintre shortcut-urile defecte, nu este afisata nicio optiune de stergere/dezinstalare a acestuia (singurele optiuni disponibile sunt cea de Pin to Start si Customize).

Deci, cum putem sterge shortcut-urile defecte ale aplicatiilor moderne dupa upgrade-ul la Windows 8.1?
Singura metoda prin care aceasta probleme poate fi rezolvata (cel putin momentan, avand in vedere ca dezactivarea antivirusului nu a dat niciun rezultat) este urmatoarea:
mergeti catre C:\Users\user-name\AppData\Local\Microsoft\Windows\applicationshortcuts (unde C:\ este partitia pe care este instalat sistemul si user-name este numele userului dvs.)
identificati shortcut-urile defecte introducand in bara de Search afisata in partea dreapta-sus a Explorer-ului cuvinte cheie pentru acestea (de exemplu modern, camera, microsoft, bing etc.)
apoi stergeti shortcut-ul afisat ca un tile blank (mai inainte va trebui sa va acordati permisiuni pentru a putea sterge respectivele shortcut-uri)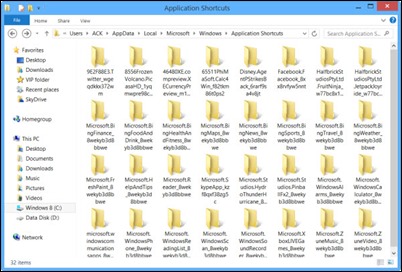 de asemenea, puteti sorta subfolderele din locatie in functie de data, cele mai vechi dintre acestea continand shortcut-urile problematice (se recomanda stergerea pe rand a acestra pentru a va asigura ca nu stergeti shorcut-uri valide)
Succes!
Nota: Este posibil ca metoda de mai sus sa nu functioneze pentru toti utilizatorii Windows 8.1 care intampina aceasta problema! Mai multe informatii gasiti aici.
STEALTH SETTINGS – Delete Modern App broken tiles after upgrading to Windows 8.1
Stergeti tile-urile defecte ale aplicatilor moderne dupa upgrade-ul la Windows 8.1