…Si astfel Microsoftul nu va pierde perioada in care toti alearga dupa cadouri, in si din toate directiile. :)
At Microsoft TechEd North America 2009, Microsoft today announced that Windows 7 and Windows Server 2008 R2 will both be available to customers in time for the holiday shopping season.
Desi initial era vorba ca se va astepta 3 ani dupa lansarea Windows Vista pentru a lansa un nou sistem de operare Windows, se poate spune ca Windows 7 a fost lansat la doar 2 ani dupa Vista, atunci cand varianta Beta 1 a fost facuta publica catre milioane de testeri. In urma cu cateva zile a fost facut public si RC-ul, iar acum avem confirmarea de la Microsoft ca Windows 7 final va fi lansat inainte de sezonul de cumparaturi :).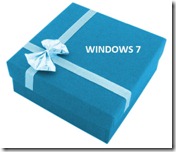 Ce e drept, miscarea este foarte buna, pentru ca si Microsoftul a avut multe de pierdut din cauza crizei mondiale.
Windows 7 va fi lansat inainte de Craciun