In Mac OS X Notification Center, avem la alegere mai multe widget-uri, printre care si "Weather", pentru starea vremii. Conditiile meteo in locatia curenta si alte locatii pe care le putem adauga dupa bunul plac.
Unitatile de masura pentru temperatura si viteza vantului, sunt setate in functie de locatia aleasa de utilizator la instalarea si configurarea OS X. Asadar, valorile pentru temepratura vor putea fi listate in Fahrenheit sau in Celsius, iar pentru vant, in mile sau kilometri.
Pentru schimbarea unitatilor de masura din Notification Center, trebuie sa avem in vedere, ca aici intalnim doua notificari distincte. Una este a widget-ului "Weather", care ne ofera informatii despre temperaturile in locatia curenta si din cele adaugate de noi, iar o alta notificare este a Notification Center, si ne prezinta un reumat al conditiilor meteo pentru locatia si ziua curenta.
Cum putem schimba unitatile de masura pentru temperatura (Fahrenheit sau Celsius) si viteza in widget-ul Weather din Notification Center
Asta este cel mai usor. Deschidem sidebar-ul Notification, ducem cursorul peste bara pe care scrie "Weather", apoi click pe "i"-ul din rotund. In partea de jos, avem optiunile de adaugare locatii si de schimbare a temperaturilor, in Fahrenheit sau in Celsius.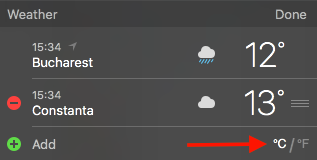 Click "Done", din partea sus, dupa ce facem modificarile.
O alta notificare prezenta in Notification Center, este cea care arata rezumatul conditiilor meteo. Temperaturi maxime, minime, conditii de ploaie sau vant.
Chiar daca avem setat ca widget-ul "Weather" sa aratae temepratura in grade Celsius, este foarte posibil ca rezumatul conditiilor meteo, sa arate temperaturile in grade Fahrenheit. Acest lucru este dat de setarile de regiune pe care le-am ales la instalarea OS X.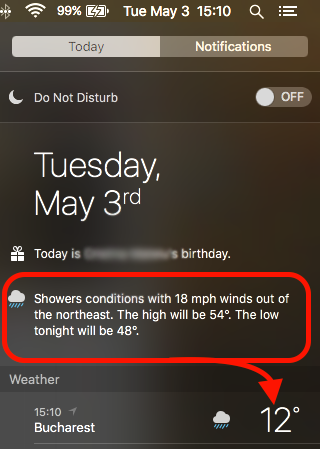 Cum schimbam unitatile de masura pentru temperatura (Fahrenheit sau Celsius) in Notification Center
1. Deschidem System Preferences, apoi deschidem "Language and Region"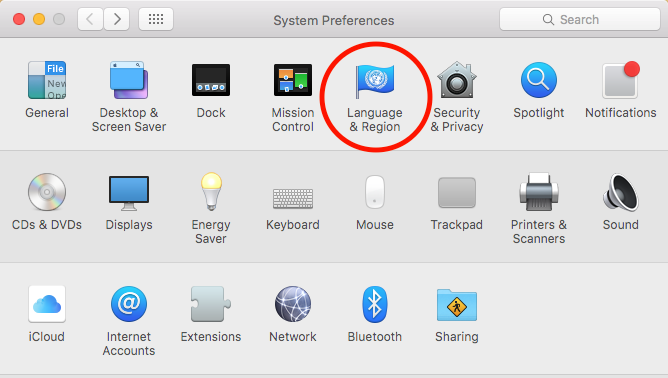 2. Click pe butonul "Advanced…" din "Language and Region".
3. La "Measurement units", alegem sistemul "Metric" pentru a schimba temperaturile din Fahrenheit in Celsius.
Click "OK" pentru salvarea si aplicarea noilor setari.
Dupa aceasta setare, in Notification Center or sa apara valorile in sistemul Metric. Kilometri pe ora, pentru viteza, si grade Celsius, pentru temperatura.