Una dintre noutatile incluse de Microsoft in Windows 10 este si Home, folderul default cu care se deschide File Explorer-ul (in Windows 7, Windows Explorer afisa Libraries in mod default, iar in Windows 8, This PC). Folderul Home din Windows 10 afiseaza, pe langa folderele Favorite (adica cele setate ca favorite de sistem), si folderele si fisierele recent accesate de utilizatori. In timp ce unii utilizatori prefera sa schimbe folderul default al File Explorer-ului din Home in This PC/Computer, iar altii prefera sa afiseze partitiile sistemului in Home, sunt si utilizatori care ar prefera sa adauge in Home foldere custom, pentru o accesare mai rapida a acestora.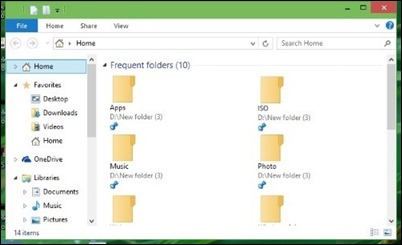 Cum adaugam folderele preferate in File Explorer Home in Windows 10?
Din fericire pentru cei care doresc sa adauge foldere custom in Home, Microsoft a facut acest lucru posibil fara a fi necesara folosirea unor aplicatii third-party sau a modificarilor de registri. Pentru a adauga un folder preferat in Home-ul din File Explorer urmati instructiunile de mai jos:
navigati catre partitia sau folderul care contine folderul pe care doriti sa il adaugati in Home
apoi dati click-dreapta pe folderul respectiv si selectati din meniul afisat optiunea Pin to Home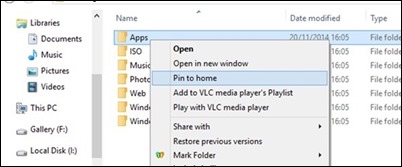 de asemenea, cu ajutorul acestei optiuni (Pin to Home) puteti adauga mai multe foldere in Home in acelasi timp; nu trebuie decat sa selectati toate folderele pe care doriti sa le fixati (pin) in Home si apoi sa selectati optiunea respectiva din meniul de click-dreapta (retineti insa ca nu puteti adauga mai mult de zece foldere custom in Home)
In cazul in care ulterior doriti sa nu mai afisati in Home unul dintre folderele custom adaugate, nu trebuie decat sa dati click-dreapta pe acesta si sa selectati optiunea Unpin from Home. Daca doriti sa aflati cum puteti dezactiva afisarea folderelor si a fisierelor accesate recent in folderul Home din File Explorer, urmati instructiunile de aici.
Nota: Desi folderul Home afiseaza si fisierele accesate recent, Windows 10 nu suporta adaugarea/fixarea de fisiere custom in acesta, ci doar a folderelor.
STEALTH SETTINGS – How to pin custom folders in File Explorer Home in Windows 10
Cum putem adauga foldere custom in Home in Windows 10 File Explorer