Daca v-ati hotarat sa instalati Windows 8 Developement Preview pentru teste, stiti deja ca, pentru a da Shutdown la sistem aveti de "parcurs" o cale putin mai lunga decat cea cu care v-ati obisnuit de la sistemele Windows anterioare (si anume trebuie intai sa dam click pe Desktop, apoi sa ducem cursorul mouse-ului in coltul stanga-jos – jos de tot – peste butonul de Start pentru a afisa Start Menu, selectam Settings apoi dam click pe iconita Power afisata in partea stanga a ecranului).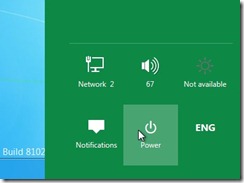 Mult mai simplu ar fi sa adaugati un tile cu Shutdown direct pe ecranul de start al Windowsului (Start Screen).
Pentru a adauga tile-ul Shutdown pe Start Screen este necesar sa creati intai un shortcut pentru Shutdown pe Desktop. Pentru a face acest lucru, urmati instructiunile:
click-dreapta pe orice portiune goala de desktop, apoi selectati New > Shortcut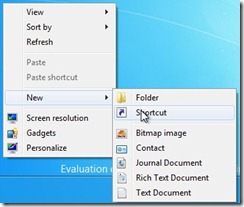 in campul de sub Type the location of the item dati Copy/Paste la urmatorul rand:
shutdown.exe -s -t 00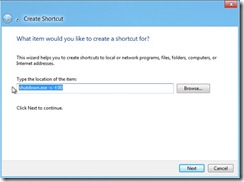 dati click pe Next, alegeti un nume pt shortcut (de exemplu Shutdown), apoi dati click pe Finish.
copiati shortcut-ul nou creat in folderul C:ProgramDataMicrosoftWindowsStart MenuPrograms (deoarece acest folder este ascuns si protejat de sistem, deschideti intai un Windows Explorer, dati click pe tab-ul View si bifati optiunea Hidden items din Ribbon pentru a-l putea accesa), apoi dati click pe butonul de Start pentru a verifica daca tile-ul shutdown este afisat pe Start Screen.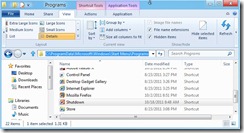 Pentru a identifica mai usor shortcut-urile in cazul in care doriti sa creati mai multe pentru diverse actiuni (cum ar fi Restart, Sleep etc.) puteti personaliza shortcut-ul nou creat modificandu-i iconita (click-dreapta pe Shortcut > Properties > General tab > Change Icon > OK > selectati iconita dorita > din nou OK), insa daca doriti sa adaugati doar un singur tile pe Start screen puteti sari peste acest pas.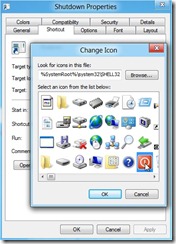 In cazul in care, dupa ce ati urmat instructiunile de mai sus, tile-ul Shutdown tot nu este afisat pe Start Screen, duceti iar cursorul mouse-ului in coltul stanga-jos al butonului de Start, selectati Search din Start Menu, apoi selectati Apps (in partea dreapta a ecranului) si tastati shutdown in campul de cautare.

Dati click-dreapta pe Shutdown, apoi dati click pe Pin in coltul din dreapta-jos.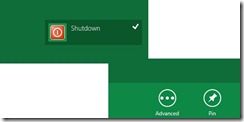 Pentru a adauga tile-uri pentru Restart, Lock, Hibernate si Sleep urmati aceeasi pasi descrisi mai sus, modificand doar comanda la care sa raspunda fiecare tile in parte:
Restart: shutdown.exe -r -t 00
Lock: rundll32.exe user32.dll,LockWorkStation
Hibernate: rundll32.exe powrProf.dll,SetSuspendState
Sleep: rundll32.exe powrprof.dll,SetSuspendState 0,1,0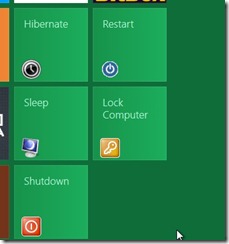 Nota: Pentru tile-urile Hibernate si Sleep asigurati-va intai ca aceste optiuni sunt activate sau ca sunt suportate de catre configuratia computerului (hardware).
Cum putem adauga tile-uri cu Shutdown, Restart si Sleep in Windows 8 Metro Start Screen